Suns rise on the horizon of all-star selections
Posted on December 31, 2014 by Taber Times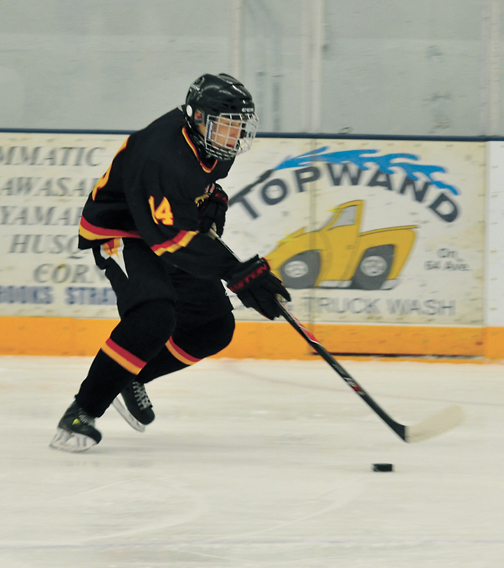 Times photo by Greg Price
By Greg Price
Taber Times
gprice@tabertimes.com
Several players in the Taber Golden Suns Athletic Association got early Christmas presents with all-star selections for the upcoming all-star South Central Alberta Hockey League games being played in Medicine Hat on Jan. 18.
In the midget "AA" Golden Suns ranks, both Dylan Heppler (23GP-19G-17A-36PIM) and Austyn Moser (20GP-18G-16A-76PIM) made it as forwards.
"He is a super hard worker, that one. With his points, that shows it too. He deserves to be there. Between stick handling and shooting, he's a goal scorer for sure," said Duane Nevil, head coach of the Taber midget "AA" Golden Suns of Heppler. "Austyn (Moser) has a little more speed. He's probably sitting at number one or two in speed in his age group. Other than that, their knack for the net is the same. He knows where to place the puck and sees the ice well. Both players go both ways hard, they hate to lose."
On the back end, Ryan Tessemaker (15GP-2G-6A-50PIM) earned an all-star selection for the midget team on the blueline.
"He is more of a skating defenceman and he's a pretty gritty kid. He's a pretty tough kid to beat, he moves well on the ice," said Nevil.
For the bantam program, Kolten Heins was selected at forward.
"He is one of the hardest working guys on the team, he wears a letter showing good leadership," said Bruce Bell, head coach of the Taber bantam "AA" Golden Suns of Heins. "He brings it every game and never quits. His attitude is really good. He scores some goals and is pretty tenacious in his puck pursuit. He is very hard to play against."
On the blueline for the Taber bantam "AA" Golden Suns, Tanner Turcato will be making the trip to Medicine Hat.
"He is our captain and in my mind he is one of the best defencemen in the whole league. The selection was a bit of a no-brainer," said Bell.
"As far as his presence on the ice, he has leadership both on and off the ice. He has a willingness to compete and is a nice kid to coach."
Among the peewee ranks, a trio of players earned all-star nods in forward Kalem Haney, defenceman Blake Kondor and goalie Brayden Peters.
Peewee 'AA' Golden Suns head coach Clark Hughson commended Haney (19GP-21G-22A-38PIM) on his two-way play.
"He has his offensive play, but with his defensive play, he is a guy that is not scared to block shots or do whatever it takes to help the team," said Hughson.
"He is more of a highlight reel-type of a scorer with some great hands, he knows how to put the puck in the net."
Kondor (20GP-5G-11A-41PIM) is a guy not afraid to jump into the play from the blueline, according to Hughson.
"We use him on the power play quite a bit and he has good hockey sense knowing when to jump into the play carrying the puck up and when to sit back and shut the play down," said Hughson.
Brayden Peters earns his peewee "AA" all-star selection between the pipes with a stellar .930 save percentage, a 9-4 record and a 2.68 goals against average.