Rebels girls have undefeated Christmas cheer
Posted on December 23, 2014 by Taber Times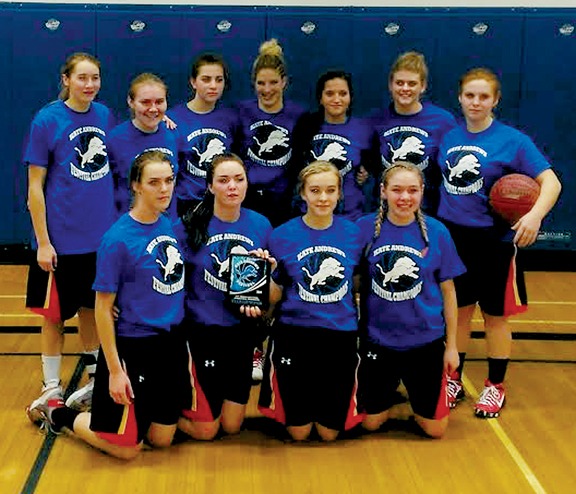 Times photo submitted
By Greg Price
Taber Times
gprice@tabertimes.com
Another tournament, another tournament title for the W.R. Myers Rebels varsity girls basketball team.
The team traveled to Kate Andrews in Coaldale this past weekend and earned a 59-50 championship final victory over Immanuel Christian Eagles.
Millay Johnson scored 11 points and hauled in nine rebounds on the way to being voted tournament MVP for the Rebels. Katessa Gross netted 14 points and was voted a tournament all-star. Player of the Game for the Rebels was Taylor Moser. Sadie Lund grabbed eight rebounds and Paige Wood seven.
"Our goal for December was to go eight wins and zero losses and Immanuel Christian was the last team in our way to this goal," said Kenney Wood, head coach of the W.R. Myers Rebels varsity girls basketball team. "The girls really wanted to accomplish this goal and knew that the Eagles wouldn't go down with out a fight. The third-quarter score was 53-26, the game was basically over at that point and we played out the fourth quarter and celebrated the win and also the 8-0 goal."
The Rebels started its tournament run with a 49-28 victory over Picture Butte Sugar Queens. Chelsea Hubble was Player of the Game for the Rebels with her 10 rebounds.
"We started a bit slow in the first quarter, but then by the end of the half had the game in full control. Although we struggle shooting the ball, we played tremendous defensively," said Wood.
The Rebels then plundered the Crescent Heights Vikings 72-31 in the tournament semifinal.
Hayley Lepard had 14 points to go with nine rebounds. Johnson chipped in 12 points. Natalie Hoyt hit for 11 points and hauled in nine rebounds. The point parade continued with Gross adding 11 to go with seven rebounds. Lund grabbed eight rebounds.
"This game was a very important game for us. Crescent Heights is in the south 3A zone and we may not play them again so we needed to play well," said Wood.
"We played well and shot the ball quite well. Defensively, we were great. The Vikings had one player that had scored 27 points in their first-round game and we held her to one point in the first half."
As the Rebels remain undefeated heading into its Christmas break, Wood has seen many positive trends emerging as the team makes its way into 2015.
"Two of our three games we had scoring from everyone. This is a tremendous advantage we have over some of the teams we have played," said Wood.
"All girls can contribute a little to the scoring, but all girls have been contributing by giving 100 per cent while on the court while playing defence. We still have a lot to improve on, but the girls have given themselves a great Christmas present by their 8-0 start. Marty, Brandon and I are very proud of them and hopefully we will continue to improve in January."