Peewee teams get that Grinch feeling in results
Posted on December 23, 2014 by Taber Times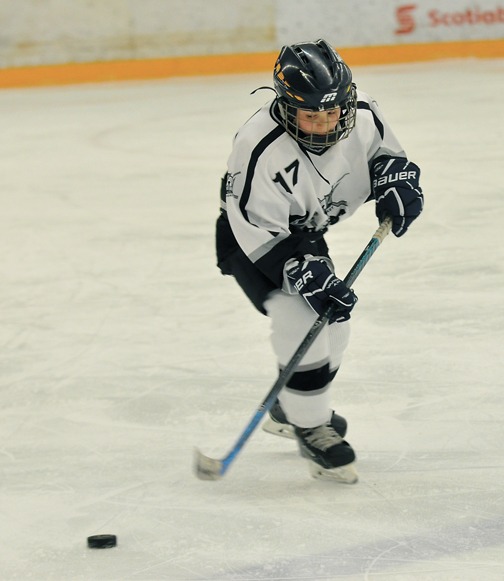 Times photo by Greg Price
By J.W. Schnarr
Taber Times
jwschnarr@tabertimes.com
Taber's Peewee Oil Kings hockey teams were in action over the past week before the Christmas break, but found their stockings filled with coal when they fell to their opposition.
The Peewee 'A' Oil Kings were at home on Saturday, Dec. 20th against the Lethbridge Hurricanes. Taber lost with a final score of 7-3. Cody Stange had three goals. Max Nevil and Carter Hendricks had assists on one goal, and Trey Halvorson and Hendricks each assisted on the other two goals.
The peewee 'A' team will be back in action on Jan. 3 when they will be on the road in Okotoks and then at home on Sunday, Jan. 4th when they will play High Country at 3:30.
The Peewee 'B' Oil Kings were in action in Bow Island against the Bow Island Rebels last Sunday, losing 7-2 before the Bow Island home crowd. Byron Kress and Ty Fitch each had a goal in the effort.
INITIATION: All the Taber Initiation Oil Kings wanted for Christmas was a big win, and they got it in Coaldale against the Coaldale Cobras Initiation 2 on Dec. 21. The final score was 12-3 for Taber.
Chase Stronge and Max Anderson had three goals apiece; Nixen Miller and Cruz Duell had two goals each; and Jaida Peters and Ryler Kiss each had singles.
NOVICE: Taber Novice 1 Oil Kings saw Christmas come early as they scored a pair of away wins last weekend.
Friday night saw the team head out to battle the Picture Butte Blades and unwrap an 11-5 win.
Kade Duell had four goals and three assists; Carter Jensen notched four goals, and Carson Love had three goals.
On Saturday the team tackled the Irvine Bulldogs and came away with an 8-7 win. Duell had four goals and three assists; Jensen had three goals; and Tristan Edgeland had a single. Hunter Damberger had an assist in the effort.
Kahil Wright was the winning netminder in both games, as well as a 3-0 record in a tournament held two weeks ago.
BANTAM: The Taber Bantam Oil Kings took home a couple gifts from their competition with a pair of wins last weekend.
On Dec. 20, Taber scraped out a 4-3 victory over the Okotoks Oilers with a pair of goals from Darian Hardy and singles from Evan Harkness. Ryan Hubble had a goal and an assist.Gage Wiebe, Spencer Phillips, and Ryan Mankow each had single assists.
On Dec. 21, Taber's five goals were enough to put a bow on the visiting Hanna Colts who could only manage a single goal against the home squad.
Harkness had a pair of goals; and Braxton Kinniburgh, Hardy, and Brady Howg had single goals.
Mankow and Rory Murphy had a pair of assists; and Spencer Phillips and Matthew Jensen each had singles.