Varsity Rebels girls continue to roll with tourney win
Posted on December 18, 2014 by Taber Times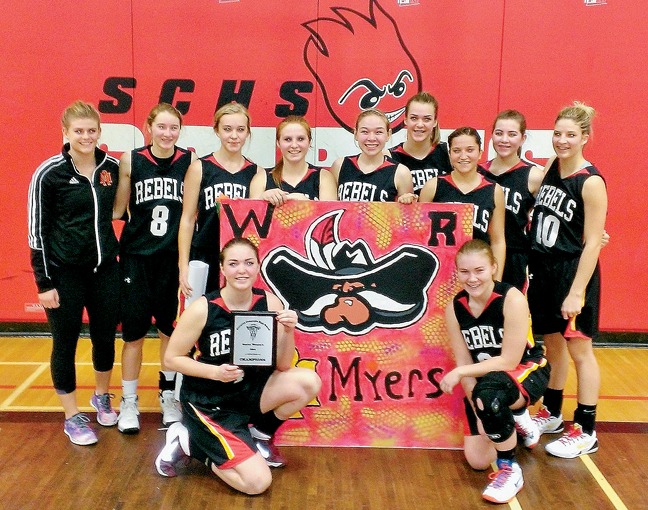 Times photo submitted
By Greg Price
Taber Times
gprice@tabertimes.com
Holiday cheer continues to be spread throughout the W.R. Myers girls varsity basketball team as the squad continued its winning ways with a tournament title at Sturgeon Composite High over the weekend.
The Rebels' tournament run ended with a 58-30 win over the host Sturgeon Composite Spirits in the championship final.
Paige Wood scored 14 points in the win for the Rebels. Hayley Lepard had nine points and Millay Johnson, Katessa Gross and Chelsea Hubble each had eight points. Wood also pulled in six rebounds with Sadie Lund grabbing five. Paige Wood was voted Rebels Player of the Game.
"It's always fun to play the home team in the final of the tourney, there was lots of noise and heckling from the fans, it makes for an exciting game," said Kenney Wood, head coach of the Rebels varsity girls basketball team.
A close 14-10 first quarter had the Rebels' coaching staff give a pep talk to the girls which saw the Rebels go on a 24-4 second-quarter run, never looking back on its way to victory.
"It was nice to see the girls play so well in that quarter. They really clamped down defensively, which created some very quick transition baskets," said Wood. "It was a great beginning tourney for us. All the teams were 3A teams so it's great that we can show that southern Alberta basketball is just a little bit above what the north is. It helps in provincial rankings and hopefully results in getting the south teams any extra provincial berths."
Rebels started its tournament run with a 64-43 win against Fort McMurray Miners.
Natalie Hoyt had 15 points in the victory and Gross chipped in 10. Paige Wood grabbed eight rebounds. Every player for the Rebels scored points in the game in which Megan Jansen was voted Player of the Game.
"We started the game a bit slow. Fort McMurray was a very physical team and just kept coming at us. We have quite a deep bench, and were able to keep the pressure on them and eventually Fort McMurray couldn't keep up. By the fourth quarter, they were on their last legs and we kept going."
W.R. Myers Rebels varsity girls basketball team played the opening scenes of the Grinch to the Morinville Wolves residing in Whoville, as their opponents wondered who stole their undefeated record in the championship semifinal. The Rebels dominated the Wolves to the tune of 72-41 to make the championship final.
Lepard poured in 16 points. Gross had 15 points and Johnson added 10. Lund had seven rebounds. Gross earned Player of the Game.
"Morinville had played six games to our two, and were undefeated. Within the first five minutes of the game, we had them fairly flustered. it was 13 to 0. They weren't sure what happened, but they knew their undefeated streak was probably going to end," said Wood.
"Our defensive pressure really put them on their heels and had allowed us some quick baskets. At half we told the girls to be prepared to see a different Morinville team than the first half. We made a little adjustment on our backcourt trap, and Morinville was expecting the same pressure as the first half and it surprised them when they had to deal with a different half-court trap."