Pyne recognized provincially
Posted on December 18, 2014 by Taber Times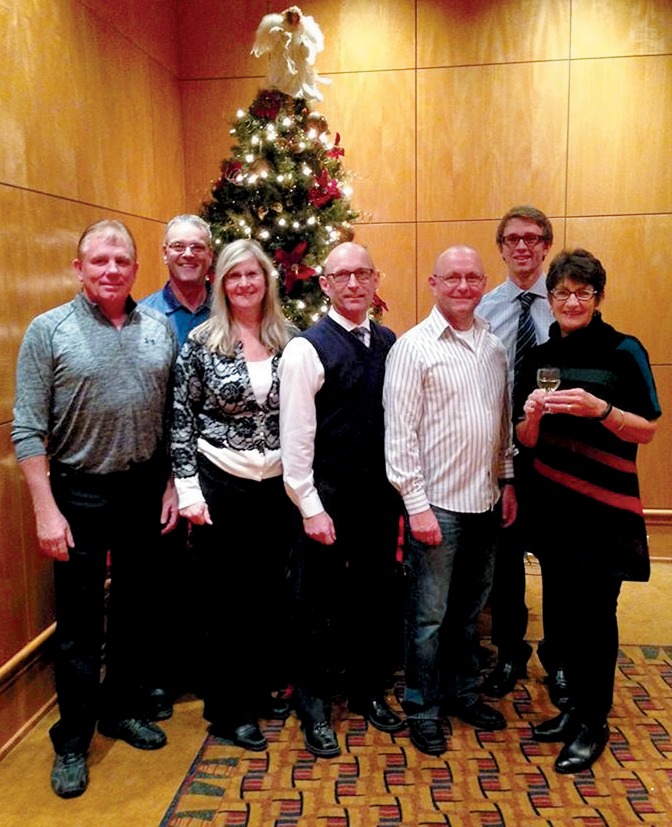 Times photo submitted
By Greg Price
Taber Times
gprice@tabertimes.com
It has been an award that has been decades in the making for Taber sports fixture Pat Pyne.
Pyne was recognized with the Alberta Schools Athletic Association Award of Merit in Red Deer recently.
"I was really pleased to get the award. It's a nice compliment," said Pyne, who attended the ceremony with inspirational family and friends, including AJ Bergen Henengouwen, athletic director at St. Mary's School who nominated Pyne for his years of service to St. Mary's Athletics. Pyne has ben entrenched in St. Mary's Athletics since the first year he started teaching back in 1982. Pyne retired from teaching this year, but still coached St. Mary's girls volleyball.
There are eight zones in the province, with each zone having an opportunity to nominate people, in which there were 10 people that were recognized this year. Any sport that has gone on at St. Mary's, you will have seen Pyne's named attached to it at some point over his 32 years of mentoring in sport.
"I got a tremendous amount of joy out of sports when I was playing when I was a student myself. When I started teaching, I got that same joy out of coaching or officiating. I've loved it the whole time," said Pyne. "Sports can teach a lot of things. It teaches you to be humble and to lose or win gracefully, to win or lose properly. You can take those lessons and apply them to life. There is hard work and preparation."
Those life lessons that sport can inspire were grounded in many of the inspirations Pyne had in his life to in what recreation can give to kids, from people close to him.
"As just about anyone else who's been involved with sport, I would be no different when I say that I've received tremendous inspiration and support from coaches I had growing up. But, then it became colleagues, administrators, custodians, friends, players and parents, opposing coaches, and my family as well," said Pyne. "Some of the names for me were Brother Baudoin, Bruce Christensen, Ken Gabruck, Alvaro Zanolli, Al and Bill Fukami, my bother Tom, Gordon Hacking, Lori Chomony and Mike Saunders, Kevin Leahy, Val Leahy, Dale Tilleman, Steve Wilson, Del Cleland, Bob Gabruck, Jim Henderson, just to name a few. Of course, I'm truly grateful to my parents, who have long since past, and my wife Jacquie and our kids Kate and Dan, whose involvement and support have made this a 'team-award.' I've been happy to contribute, and I'm very appreciative."