Novice teams meet in home tourney final
Posted on December 18, 2014 by Taber Times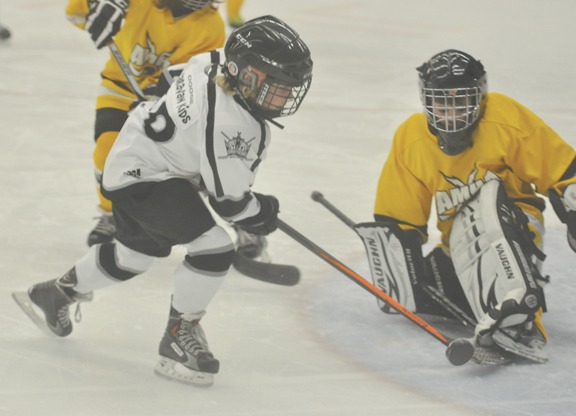 Times photo by Trevor Busch
By Greg Price
Taber Times
gprice@tabertimes.com
Taber novice Oil Kings teams hosted its home tournament this past weekend at the Taber Arena as both squads squared off in the final.
Taber novice 1 Oil Kings beat Taber novice 2 Oil Kings in the championship final 12-2.
Scoring for novice 1 was Kade Duell with four goals and five assists. Jaxson Coutts and Carson Love each had two goals apiece. Vance Kramer, Tristen Egeland, Carter Jensen and Hunter Damberger each had singles. Evan Untereiner, Hunter Damberger and Jensen each had two assists. Wieler Krahn had three assists.
Oil Kings started its tournament with a 13-1 win over Airdrie Hornets.
Scoring for Taber was Duell with four goals and two assists. Damberger had three goals, and Jensen had two goals. Egeland, Coutts, Jessica Turgeon and Love had singles.
Novice 1 Oil Kings also earned a win over Lethbridge Warriors.
Scorers included Duell with four goals and five assists, Jensen netting four goals to go with two assists and Egeland potting the hat trick. Kramer, Coutts and Damberger had singles. Krahn and Untereiner had assists.
Taber novice 2 Oil Kings' voyage to the final included a 4-3 win over Picture Butte Blades.
Scorers were Nathan Planger, Langdyn Cummins, Sam Tolsma and Evan Koizumi each with singles and Shayee DeBona with an assist. Kayden Kress earned the win in net.
Novice 2 Oil Kings then proceeded to skate to an 8-5 win over Strathmore Storm.
Planger had three goals and Tolsma, Rex Bell, Koizumi, Damian Beswick and Devan Loewen each had singles. Loewen and Kress both had assists. Zachary Fehr earned the win in net.
Scoring in the championship game for novice 2 Oil Kings were Planger with a goal and an assist, Bell with a single and Blake Rabusic with an assist.
BANTAM: Taber bantam Oil Kings suffered a 3-1 loss to Hanna on Sunday.
Ryan Hewitt scored for the Oil Kings with assists from Rory Murphy and Dawson Hendricks.
PEEWEE: Taber peewee "A" Oil Kings suffered a 4-1 loss to High Country on the road in Black Diamond on Saturday.
Scoring the lone goal for Taber was Cody Stange.
The peewee 'A' Oil Kings have one last home game before the Christmas break. They will play on Saturday, at 3 p.m. against the Tier II Lethbridge Hurricanes.
ATOM: Taber atom 'A' Oil Kings Tier III hockey team earned a 7-3 victory over Coaldale on Sunday.
Heath Hansen and Zachery Hauck each had hat tricks and Nathan Verloop added a single. Hauck, Verloop, Rylan Millo and Connor Eldridge had assists. Levi VanBeers earned the win in net.
INITIATION: Taber initiation 2 Oil Kings played in a tournament over the weekend.
The first game was a 9-9 tie with Lethbridge. Lincoln Weiss and Konnor Wiebe both had hat tricks and Roman Capner had two tallies. Avery Remfert notched a single. Weiss got the Digger Award.
The team then skated to an 11-8 win over Lethbridge Dynamite.
Wiebe and Capner had hat tricks with Remfert and Weiss both scoring two goals. Ayden Umbach had a single. Digger Award went to Capner.
The team concluded its tournament run with a 9-4 win over Picture Butte Blades. Weiss and Wiebe had hat tricks , Capner tallies twice and remfert once.