Davidson's NHL dream a reality
Posted on December 18, 2014 by Taber Times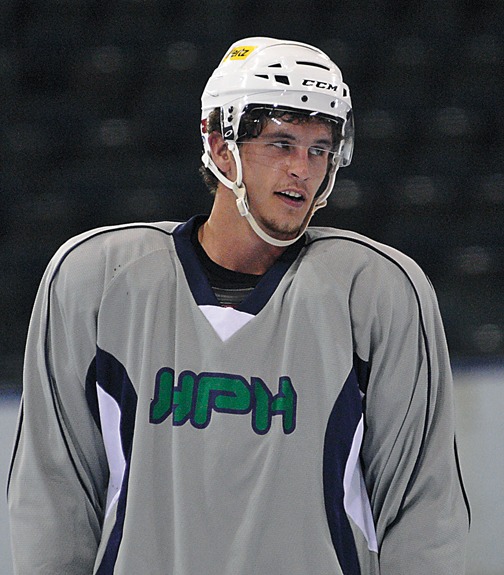 TIMES FILE PHOTO
By Greg Price
Taber Times
gprice@tabertimes.com
Nothing has ever been handed to Taberite Brandon Davidson in his hockey career.
Every uphill battle Davidson, a six-foot-two, 215-pound defenceman has endured he has taken head on, and last Wednesday Davidson fulfilled a dream of many a Canadian boy does when they first lace up their hockey skates — to be an NHLer.
Davidson finished his NHL debut with the Edmonton Oilers' 2-1 loss to the Anaheim Ducks with 13:08 of ice time, two hits, a blocked shot and a plus-one rating.
"It was amazing. There was a lot of emotion and it is one of those things that is indescribable," said Davidson. "I got a few words of wisdom from a few guys in the dressing room before we went on the ice. But I wasn't trying to think about it too much and just play my game and keep it simple. That's where I am successful. I wasn't trying to hype myself up, my heart rate was already going through the roof."
Donning #88, Davidson got this solid review of his NHL debut by the Edmonton Journal's Bruce McCurdy. -Very creditable NHL debut by the third-year pro. Spent too much of his 13 minutes in the defensive zone, but maintained a clean sheet on scoring chances thanks to some diligent one-on-one work. Won a lot of battles outright, and largely succeeded in keeping opponents to the perimeter. Had his head on a swivel and showed excellent awareness towards potential danger. At no time did he appeared overwhelmed by the level of play, even facing the NHL's top club.-
"It was definitely quicker for sure. But I felt pretty comfortable on the ice and I was able to adjust pretty quick," said Davidson. "Once I got settled in there after the first couple of shifts, I felt as the game went on I got a little better and got a little more trust from the coaching staff where they put me out in some key situations. It was nice to get the first one out of the way, I think it was a good start for me, but there's definitely some room for growth. I'm excited to see what I can do."
How Davidson arrived at this critical juncture last week in his burgeoning pro hockey career has been a bumpy road that has never been in cruise control.
Never selected in the WHL bantam draft, Davidson was a walk on with the WHL's Regina Pats. His solid play there in which he ascended to the captaincy netted him a sixth-round selection by the Edmonton Oilers in the 2010 NHL Entry Draft, 162nd overall.
Just as he looked like he was ascending the Oilers' defenceman prospect ranks with the Oklahoma City Barons, he discovered he had testicular cancer in November 2012.
With a clean bill of health now, but still bi-yearly check ups required, Davidson was on the cusp of making the NHL squad in 2014 after having a solid training camp in 2013. But fate would step in once again. He suffered a sports hernia before Oilers camp this past fall which forced Davidson to miss all of camp and spiral down the prospect list in the organization in which Davidson rebuilt his stock.
"I've already had to go through a few things in my life and so to get there was pretty special to me and my family. I was pumped," said Davidson. "It wasn't easy for sure, there were a lot of things that staggered me."
"But this is something I've always wanted to do and it's my dream and nothing was going to stop me. I was willing to do whatever it takes and I'm just happy to see my hard work finally pay off after so many things that staggered me."
"It was something I have worked for my whole life and I've earned the right to be on that ice and hopefully I can stick around. I was thankful for the opportunity."
Davidson did not know if he was going to play in the game as an emergency call up until he arrived at the rink, two hours before game time.
"It was a whirlwind where I didn't know if I was a go or not," said Davidson.
Davidson did know he was a go in the home-and-home series on Friday as the Oilers hosted the Ducks at Rexhall Place with plenty of family and friends in tow. Davidson was paired with blueline partner Justin Schultz for the game, as he was once again for Sunday's game against the New York Rangers.
Davidson delivered two hits in his 12:27 of ice time on Friday, including some penalty-kill time. Sunday's game against the Rangers saw Davidson's ice time at 12:53 with 29 seconds on the power play.
The Oilers continue to struggle at 7-19-5 after weekend play, that saw the Oilers fire head coach Dallas Eakins on Monday as Davidson looks to continue to get ice time.