Rebels girls trap Coyotes in win
Posted on December 10, 2014 by Taber Times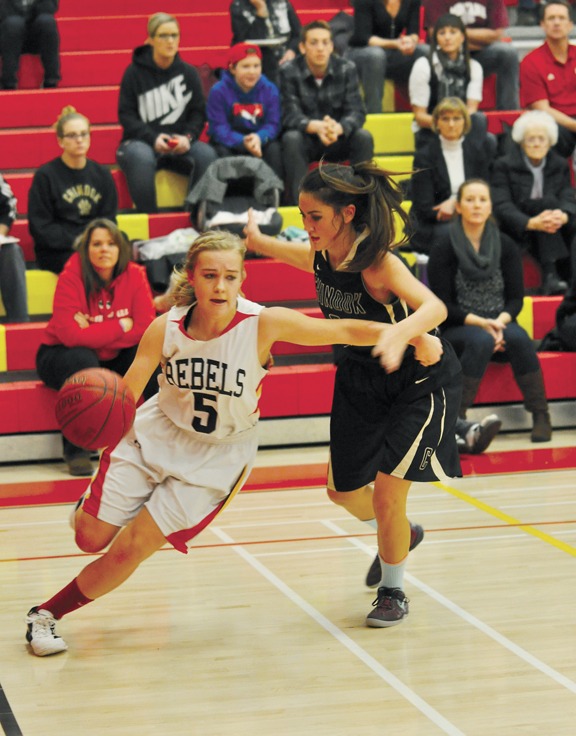 Times photo by Greg Price
By Greg Price
Taber Times
gprice@tabertimes.com
If the W.R. Myers Rebels varsity girls basketball team wanted a gut check early on in the Southern Alberta High School Girls Basketball League, they got one in its home opener last Wednesday.
"We were tied after the first quarter, up by one point at the half, tied at the third quarter-mark," said Kenney Wood, head coach of the W.R. Myers Rebels varsity girls basketball team, of his squad's eventual 62-58 win over the Chinook Coyotes. "It was both teams' first games, so there was a lot of turnovers. Some we caused and some were giveaways, but they had more than we had. We were pressing more than they were. It worked for the most part where we didn't get burned too many times pressing."
It was the exact type of game Wood was hoping for apart from the victory that has given the Rebels girls some forward momentum in the early part of the season. Lots of positives while identifying things that need to be worked on as the season progresses its way to high school's version of March Madness.
"We need to work on our foul shooting, it wasn't very good. We shot 30 per cent from the three-point line and close to 40 per cent from the field and those are OK numbers," said Wood. "We missed a lot of little shots, which in the early season you are sort of nervous. But overall, considering we have been trying to figure out some new things with some new plays getting systems in, I think we did what we were hoping for and that was to come away feeling good beating Chinook. But more than that, feeling good that while we can fix the little things, our effort was tremendous. Every player that was out there, whether they gave me 10 minutes or they gave me 30 minutes, their effort was there. If we do that, we will be on the winning side more often than the losing side."
Scoring was spread right down the line with Millay Johnson leading the way with 11 points and Paige Wood adding 10. Taylor Moser, Katessa Gross and Hayley Lepard all had nine points apiece. Nine players scored at least two points.
"Those are the teams that are hard to defend. If you don't defend that player who had nine points, they maybe will get 15. I knew that going in, I knew I had depth in scoring," said Wood. "I think once in awhile you'll see one of four players have a breakout game, like scoring on 60 per cent of their shots, getting a lot of points. But that's how I want our score sheet to look, with a whole bunch of people scoring."
Another positive sign was the fan base in which W.R. Myers was filled to near capacity in its seating in the bleachers, a trend Wood hopes to see continue as the team makes its way to a guaranteed seed in provincials, hosting 3A provincials in March.
"It's always great to get a win and especially against last year's runner up in 4A provincials.
"It was nice on a number of levels," said Wood. "The main thing was for the girls to know what we as coaches have been telling them which is we are going to be one of the elite teams in the league. We have things to work on, the girls know that."
The team is off to a tournament at Sturgeon High School in Edmonton Dec. 11-13.
"Up in Sturgeon it is mostly 3A like we are. But most of the teams are up north. We expect to do quite well, we won it last year.
"It's nice to see those teams that we never see for ranking purposes," said Wood. "It's critical teams from the south play teams from the north for ranking purposes so there is an accurate measuring stick."
In junior varsity play last Wednesday, the Rebels fell to Chinook 61-51. Genna Wright had 20 points for the Rebels and Jenna Nelson added 12.
W.R. Myers varsity girls basketball team returns to league play on the road against LCI Clippers on Dec. 17.