Rebels girls open season tonight
Posted on December 3, 2014 by Taber Times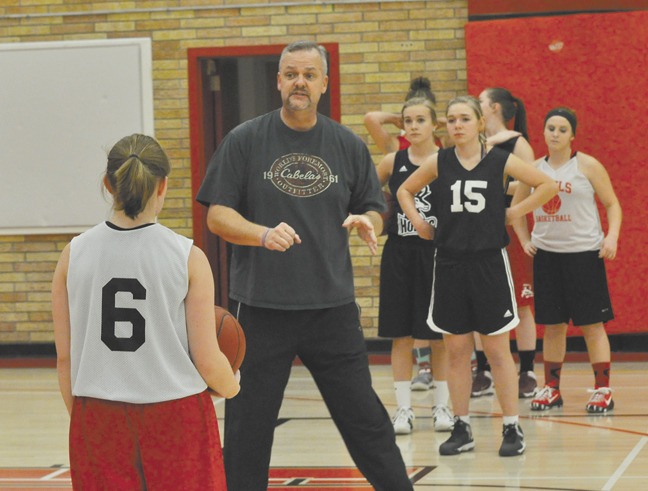 Times photo by Greg Price
By Greg Price
Taber Times
gprice@tabertimes.com
Unlike several starlets that say it's just an honour to be nominated for an academy award, the W.R. Myers Rebels varsity girls basketball team are not taking that attitude when its comes to hosting 3A provincials in March 2015.
With five players returning from last year's varsity team, expectations are high.
"We know we are getting there (provincials), but that's not good enough. I think we will be in contention for the banner this year for 3A," said Kenney Wood, head coach of the W.R. Myers Rebels varsity girls basketball team. "I know what other teams have and what we have. I want to be one of those top four-ranked teams at provincials. Last year we were ranked in the top six for most of the year, but we didn't get it done in the end. We have a pretty solid core coming back."
That core does not have a lot of height, but it has plenty of speed to burn along with some sharpshooters along the lineup, according to Wood.
"We are going to be fast and we are going to be able to shoot. Defensively, we are going to be very tough with some very quick kids," said Wood. "Our only issue is with our tallest kid being five-foot-nine. But we will more than compensate with our speed. Our players playing post are tough; they have had to play against taller kids their whole career and have done extremely well."
Defensively there will be lots of pressure put on opposing ball handlers which will come in constant waves.
"We have the kids who can do it and put in their minutes, come off, and we will send someone else in and give those exact same tough minutes," said Wood. "Lots and lots of games will feature pressure on their guards which will hopefully alleviate if they have a tall girl. It's hard to throw it into the post with a good pass when there is so much pressure on the guard."
W.R. Myers Rebels varsity girls basketball team will feature 10 players on its roster this year with none of them floating between the varsity and junior varsity teams. It is a good mix of veteran leadership and youth on the team with four Grade 12s, four Grade 11s and two Grade 10s.
"Unless we practice together, it's almost impossible to float players between the two programs," said Wood. "I know when I was in Claresholm, we practised together so we could float quite easily because the juniors knew what the seniors were doing."
As Wood has gone about his business to get his team prepared for the season which starts today with the Rebels' girls home opener, he has seen a sense of camaraderie that is not always present in various sports teams.
"Once in a while, we will have drills where they team up in twos. Usually two girls stay with their two girls," said Wood.
"As we are practising, they are switching their twos with some different girl. I like that, because that means there's no clicks and that's good for team stuff. There are not just one or two good friends on this team, that means there are nine other girls who are comfortable they are doing drills with. They know throughout the season, they can rely on each other. When it comes to getting things done, they will trust each other that they will be there for each other."
Wood has had to change his philosophies a little bit to suit the skill sets of the team.
"We don't have a dominant post player like we have in the past where we could work through them," said Wood. "This year we have quite a few shooters where we'll run a few different offensive sets than we have before because that is what the team dictates. We are going to be down the floor. We are going to get the ball and go. We have some really good ball handlers."
The W.R. Myers Rebels start off its Southern Alberta High School Girls Basketball League schedule in the deep end of the pool today with a game against the Chinook Coyotes in which Wood would have it no other way.
"They'll be a good measuring stick. They are returning some pretty solid players, although they are not going to be as good as last year. When you lose one of the best basketball players in the province, maybe in the country, you are never going to be as strong," said Wood.
"They are still going to be a top-five team in the league, so I want to play them. I want to see where we are at and say we are either right there, or we need a long ways to go. It should be a fun game."
W.R. Myers Rebels girls basketball team hosts Chinook today with junior varsity at 6 p.m., with varsity to follow.