Novice teams solid in Picture Butte tourney
Posted on November 26, 2014 by Taber Times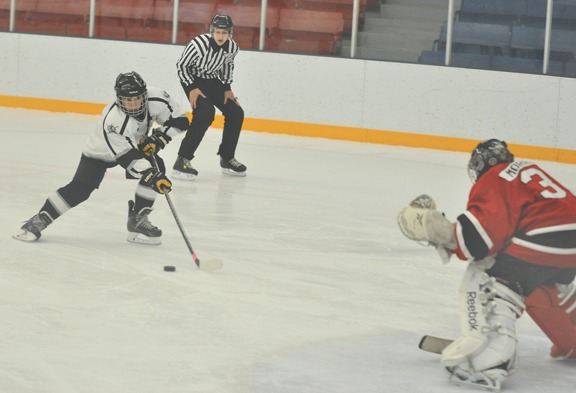 Times photo by Trevor Busch
By Greg Price
Taber Times
gprice@tabertimes.com
Taber Novice 1 Oil Kings earned the clean sweep of hockey victories at a tournament in Picture Butte over the weekend.
The first game was a 20-1 drubbing of Lethbridge Vipers. Hunter Damberger, Kade Duell, Carter Jensen, and Jaxson Coutts each had four goals. Tristen Egeland notched two tallies and Carson Love and Jessica Turgeon each had singles. Love also drew three assists with Vance Kramer and Coutts each having two helpers. Jensen, Wieler Krahn, Damberger and Duell had single assists.
Oil Kings' second game was much closer in a 9-8 victory over Didsbury Ramblers.
Scoring for Taber was Duell with four goals and an assist, Jensen notched two goals and Kramer and Egeland each had singles. Coutts and Egeland had single assists and Damberger had two helpers.
Taber Novice 1 Oil Kings finished off with a victory over Raymond Ice.
Duell and Coutts each had four goals with an assist. Jensen had three goals and an assist, Kramer had one goal and one assist, and Damberger had two goals and an assist. Turgeon had a single assist.
Taber Novice 2 Oil Kings won two of three of its hockey games at the same tournament in Picture Butte over the weekend.
Oil Kings' opening game was a 7-1 loss to the hosts. Evan Koizumi scored the lone Taber tally with an assist by Tanner Fletcher.
Oil Kings bounced back with a 13-2 win over Lethbridge.
Koizumi had the hat trick and Kayden Kress and Samuel Tolsma each had two goals and an assist. Hayden Span tallied twice. Fletcher, Damian Beswick, Nathan Planger and Tage Jensen each had singles. Blake Rabusic had an assist.
Oil Kings finished its tournament run with a 17-0 trouncing of Okotoks.
Kress led the way with three goals and two assists with Koizumi getting the hat trick to go with an assist. Planger and Jensen each had hat tricks as well. Rabusic had two goals and an assist with Devan Loewen and Span each having a goal and an assist. Beswick rounded out the scoring with a single. Shaylee DeBona had two helpers and Zachary Fehr had a single assist.
MIDGET: Taber midget Oil Kings split its pair of games in hockey play over the weekend.
The team earned a 5-2 win over Claresholm Thunder at the Taber Arena on Saturday.
Colten Gorda had two tallies and Clayton Miller, Clay Leismeister and Linden Gouw had singles. Kaden Fujita drew four assists and Gavin Hoskins, Brandon Ferguson, Gorda, Gouw, Hunter Johnson and Cameron Mack each had single assists. Scott Tersteeg earned the win in net.
The team proceeded to drop a 5-3 decision to Oyen at the Taber Arena on Sunday.
Gouw scored twice and Kevin Turner had a single. Brady Garner and Logan Kiss had assists.
BANTAM: Taber bantam Oil Kings won both of its games over the weekend.
The squad beat Beiseker 9-1 on Saturday. Ryan Mankow and Matthew Jensen both had two tallies apiece and Dallas Bodnar, Ryan Hubble, Evan Harkness, Darian Hardy and Ryan Hewitt had singles. Hubble, Mankow and Spencer Phillips each had two assists. Jensen, Bodnar, Hardy, Harkness, Hewitt and Nathan Kaye had single assists.
The Oil Kings proceeded to defeat Foothills on Sunday.
Mankow potted two goals and Bodnar, Harkness and Braxton Kinniburgh had singles. Hewitt drew two assists and Kinniburgh and Dawson Hendricks had single helpers.
PEEWEE: Taber peewee 'A' Oil Kings split its pair of hockey games on the weekend, starting off with a 5-4 win over Medicine Hat Venom on Friday on the road.
Carter DeBoer tallied twice for the Oil Kings with singles by Jayce Jensen, Josh Verloop and Cody Stange. Verloop also had two assists with Stange, Joey Fabbri, Brylan Span, Darci Wright and Max Nevil also getting helpers. Blake Van Beers earned the win in net.
The Oil Kings then traveled to Magrath on Sunday to play the Coaldale Cobras and lost 8-2. DeBoer and Stange scored with Stange also getting an assist along with Nevil.
INITIATION: Taber Initiation 1 Oil Kings dropped a close 7-6 game to Coaldale at the Taber Arena on Sunday.
Maxwell Anderson and Chase Stronge both had hat tricks for the Oil Kings. Ryler Kiss, Lucas Kerkhoff and Jaida Peters shared goaltending duties.
Earlier the team beat Irvine Bulldogs 16-0 at the Taber Arena on Saturday.
Anderson, Nixen Miller, Tate Nakashima, and Kiss each had hat tricks for Taber. Peters had two goals and Stronge and Kerkhoff had singles. Nixen Miller, Ryler Kiss combined for the shutout in net.
Taber Initiation 2 Oil Kings earned a 15-5 win over Coaldale Cobras at the Taber Arena on Saturday.
Avery Remfert, Konnor Wiebe, Lincoln Weiss, and Roman Capner all had hat tricks and Ayden Umbach had two tallies and James Ruggles notching a single.