'AA' midget Golden Suns record back-to-back wins
Posted on November 19, 2014 by Taber Times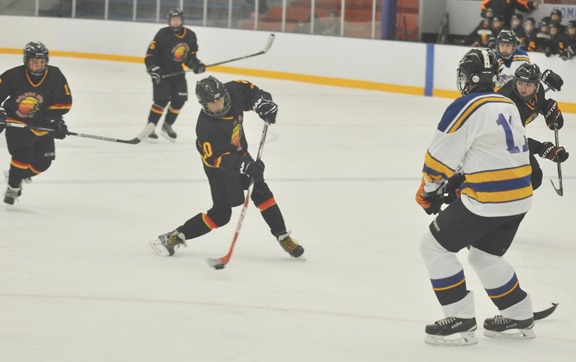 Times photo by Trevor Busch
By J.W. Schnarr
Taber Times
jwschnarr@tabertimes.com
Editor's note: In the print edition of the Nov. 19 issue of The Taber Times, the headline and story lead erroneously refer to the "AA" midget Golden Suns as the "AA" atom Golden Suns. The Times apologizes for any confusion.
The Taber midget 'AA' Golden Suns picked up a pair of wins over the weekend when they faced off against Medicine Hat and Cranbrook in South Central Alberta Hockey League action at the Taber Community Centre arena.
Friday night the Suns squared off against the Medicine Hat Venom and doubled up on them with a score of 6-3.
Special teams played a large role in a penalty-fuelled affair that saw the Suns score four unanswered goals in the first period. Brandon Langridge scored shorthanded in the opening minutes from Jedd Horvath, followed by back-to-back powerplay goals less than a minute apart by Austyn Moser from Nick Badura and by Ryan Tessemaker from Riese Nevil and Justin Tams.
In the second period the ice tilted in Medicine Hat's favour, as they were able to score three goals and bring the match to within one for the start of the final frame.
Moser piled in his second of the game from Tams at the halfway mark and Badura added a shorthannded empty netter with about a minute and a half left to seal the win.
On Saturday, the Suns again proved a quick start can lead to success by scoring three unanswered goals against the Cranbrook Knights in a 5-2 win before a hometown crowd.
Moser lit the lamp from Langridge and Dylan Heppler to start the scoring, followed by Langridge getting one of his own from Moser and Heppler and another by Horvath from Nevil and George Bertola with under two minutes to go in the period.
The knights scored the only goal in the second period and trailed 3-1 headed into the third.
Taber's Mack Honess scored in the opening minutes of the third period from Kaleb Many Fingers before Cranbrook answered back, but with just over six minutes to go in the game Riese Nevil scored from Clay Nevil and the Suns took the win.