Rebels gallop past Mustangs
Posted on October 29, 2014 by Taber Times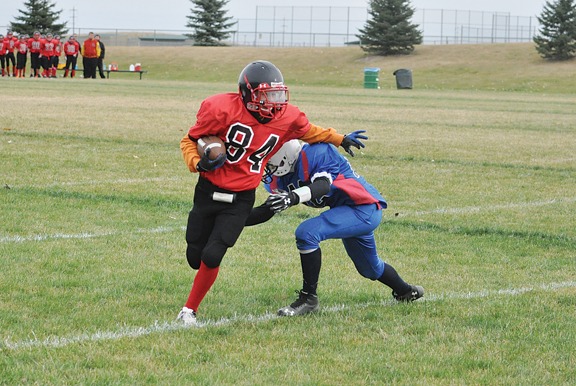 Times photo by Trevor Busch
By Greg Price
Taber Times
gprice@tabertimes.com
The Taber bantam Rebels football team will play for a league championship this weekend in Lethbridge.
Taber earned a spot in the Southern Alberta Minor Football Association Division III final with a convincing 67-6 win over the Pincher Creek Mustangs, Saturday in Taber.
The Rebels scored on the game's opening kickoff, as Corny Froese ran 77 yards for the first major of the contest.
It was a sign of things to come, as Taber's defence forced Pincher Creek into a quick two-and-out possession, and scored on the first offensive play from scrimmage, as Evan Harkness ran for six points on a long touchdown run.
"Our offence really looked sharp all game long," said head coach Garrett Simmons. "We mixed things up a bit with the run and the pass and executed well."
Harkness added another touchdown on Taber's next drive, part of a dominating first half which had the Rebels carry a 48-0 lead in the half.
"It was one of those situations where everything we tried seemed to work," said Simmons of his offence.
On the defensive side of the ball, the Rebels held Pincher Creek's offence to very little in the game's first two quarters, as the Mustangs failed to move the ball on drive after drive.
"We brought a lot of pressure and disrupted Pincher's double-wing-T offence," said the coach. "We wanted to get defenders into the backfield as quickly as possible and negate the impacts of their misdirection plays."
The Rebels subbed liberally in the second half, as a lot of players got into the lineup on both sides of the ball, to help the team keep fresh for this weekend's championship game.
"It gave us a lot of opportunities to get a number of kids in on both sides of the ball," said Simmons. "We had to stay sharp, no matter what the scoreboard said, because Pincher Creek kept playing hard well into the fourth quarter."
Taber's scoring attack included rushing touchdowns from Brett Andrus, Theron Andrus, Chance Cook, Ben Kakuk and Brandon Szigli, while Froese and Riley Andrus hauled in touchdown passes from quarterback Mike Sawaztky. Levi Tams added six extra points, and also kicked a single point off a kickoff.
Defensively, Wyatt Thurston hauled in four fumble recoveries, while Harkness and Orion Schnarr had one fumble recovery each.
"Creating turnovers really helps you gain momentum, and on Saturday, our defence put us in some great spots, field-position wise," said Simmons. "It's a different kind of offence you don't see very often, and our kids were constantly in the right spots to make plays."
The win over Pincher Creek sets up a rematch of last year's Tier IV league semifinal with the Lethbridge Bulldogs.
Taber fell in a high-scoring contest last year, and Simmons hopes the memories of that defeat are still fresh in the minds of his returning players.
"It wasn't a very good feeling leaving the field at the U of L last year," said the coach. "Lethbridge did a great job on special teams in that playoff game and sent us home earlier than we wanted. We need to come out strong right away in the first quarter and steal momentum from them quickly."
The game will be played at 11 a.m. in the city, and with Football Alberta's elimination of Tier IV provincials this year, it will be the final game of the season for the Rebels, win or lose.
"For a lot of these kids, it's the final bantam game of their young football lives," said Simmons. "We're going to stress that this week in practice, and hopefully those Grade 9s will come out with a lot of fire and lot of passion on Saturday and lead us to a big win."