Pheasant festival flies high
Posted on October 29, 2014 by Taber Times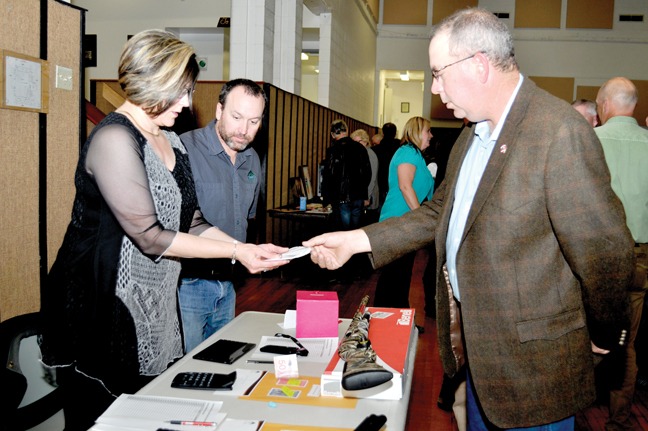 Times photo by J.W. Schnarr
By Greg Price
Taber Times
gprice@tabertimes.com
The Taber Pheasant Festival flew to even greater heights this year, giving the town and surrounding Municipal District of Taber areas the spotlight for hunters from near and far.
"I did see a lot of camo around town and so there was definitely an injection into our local economy. I can't speak to how much, but I think last year it was estimated at around the $100,000 mark and it probably did better than that this year," said Tyrel McLelland, president of the Taber and District Chamber of Commerce who helped co-organize the Pheasant Festival which concluded last week. "We definitely had over 500 hunters and I think it was closer to 600 and very few of those hunters were local, so it truly was an injection into the local economy from outside. You have your hotels, restaurants, gas, ammo at NAPA, groceries and any other shopping they had to do in town."
There were your novice and regular pheasant hunts to go with turkey shoots, a banquet dinner which drew 375 people at the community centre and scotch tasting at the Heritage Inn as some of the several activities for the festival. McLelland estimated there were 5,000 pheasants released that were imported from Wisconsin.
"It took seven minutes to sell out this year," said McLelland of the demand of hunters for the pheasant hunt.
"We are going to be having a follow-up meeting in the next couple of weeks and we will start planning for next year. I was really happy with how everything turned out all week."
The Town of Taber, the Taber and District Chamber of Commerce, the Municipal District of Taber and the Town of Vauxhall were some of the partners that helped run the Pheasant Festival.
"We're trying to figure out ways to get the community more involved in it. There seems to be a lot of perception that this is just bring in farm birds and we open the gates and shoot them," said McLelland. "There is a lot more to it, it's about habitat and conservation. It costs the Alberta Conservation Association money, but the reason they are willing to invest is it raises awareness and as a result of this Pheasant Festival, there has been a lot of initiatives by landowners to improve the habitat for pheasants around here."