Peter Peters powers Pride past Rebels
Posted on October 29, 2014 by Taber Times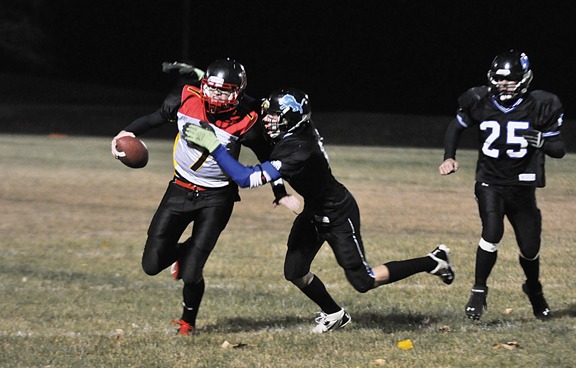 Times photo by Trevor Busch
By Greg Price
Taber Times
gprice@tabertimes.com
W.R. Myers Rebels football team concluded its season on Friday in a 24-14 Tier IV playoff loss to the Kate Andrews Pride at Ken McDonald Memorial Sports Park.
"It was a tough game, it was one we thought got away from us," said Adam Hughes, head coach of the W.R. Myers Rebels football team.
"They played well the last few weeks of the season, beating some bigger teams and there is no shame in losing to them."
A field-possession game early in the contest as both defences were able to hold the line, the Rebels nearly had a punt blocked that resulted in favourable field position. Faced with a second and very long, the Pride was able to convert which seemed to take the wind out of the Rebels sails as the Pride would march on for its first major.
"They gained 20 yards to get the first down which deflated us. And then there was another score right before half. Again it was those last minutes right before half that killed us," said Hughes.
Also killing the Rebels was the road-grater game of Pride all-star running back Peter Peters.
"They were able to drive the ball on us pretty good with off-tackle stuff which is what killed us," said Hughes.
"They did a good job of establishing the edge on us and their star running back Peter Peters ran over us a few times."
The Rebels were able to get touchdowns from Nathan Bennett and Colton Terry to make a game of it late.
"It was a tough loss. If we played them 10 times we would win five times and they would win five times. That's how evenly matched we are," said Hughes.
"They have 12 or 13 Grade 12s out of their 18 guys."
The Rebels graduate approximately 10 Grade 12s themselves as the ranks were pretty even among Grade 10, Grade 11 and Grade 12 athletes for W.R. Myers.
"We were a pretty balanced team, but it's going to be tough losing those seniors. Overall I'm pretty proud of how the kids played," said Hughes. "Football season is pretty tough to get through and we asked a lot of the boys and I'm pretty proud of all of them."