Peewee Golden Suns still undefeated in league
Posted on October 22, 2014 by Taber Times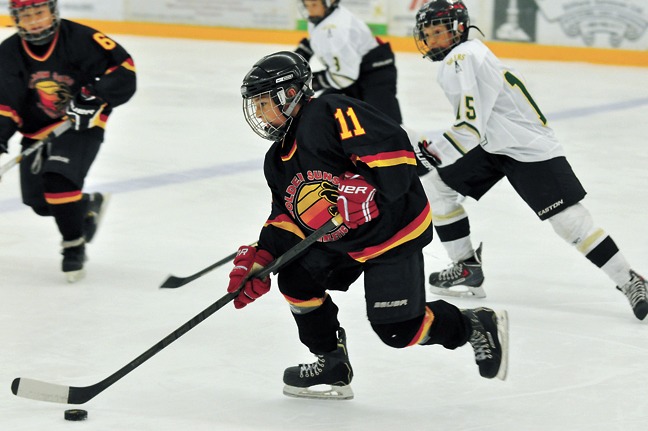 By Greg Price
Taber Times
gprice@tabertimes.com
Taber peewee "AA" Golden Suns remained perfect in the early part of the South Central Alberta Hockey League season by earning two lopsided wins over the weekend to push its regular-season record to 8-0.
But, despite the perfect record so far, the team still has not found its full stride, having played some of the weaker competition in the league up to date, according to the team's head coach.
"We have some great players and have scored some good goals. We have had a lot of the kids contribute to scoring on all three lines," said Clark Hughson, head coach of the Taber peewee "AA" Golden Suns.
"The best part is I still don't think we've reached our peak yet. I still think we can play better. The tough part is keeping the kids focused. We are going to have some tough games and our schedule so far we've had quite a few weak teams at the start. We have to keep reminding them how we want them to play with a fast-paced brand of hockey with short shifts, move the puck and be a puck-possession team controlling the game."
The first was a 10-2 win over Medicine Hat Venom White (0-5) on the road Saturday.
Cash Reagan and Kolby James potted two goals apiece for the peewee Suns with Blake Kondor, Colby Garner, Derrien Tonin, J.D. Hall, Quade Hughson and Nolan Price all getting singles.
Kalem Haney helped out with four assists and Tonin, Regan, Kondor, Hughson, Price and Tristan Miller each had single assists.
Blake Vaselenak earned the win in net, facing 20 shots.
"We did some experimenting, especially in the Hat. We mixed things up on different lines," said Hughson.
Taber peewee "AA" Golden Suns returned home to the Taber Arena on Sunday and recorded a 6-1 win over Okotoks Oilers Black (0-4-2).
James tallied twice to go with two assists and Hughson, Price, Miller and Hall had singles. Regan had two assists and Price getting single helpers.
Brayden Peters stopped 29 0f 30 shots to earn the win in net.
Taber peewee "AA" Golden Suns host Okotoks Oilers Green this Sunday at 1 p.m. at the Taber Arena.
"From what i have heard, they are a little tougher than Okotoks Black. We'll have to make sure we are ready," said Hughson. "We have some great players, but I don't think we're a great team yet which is what we are striving for, so we have to keep focused."
BANTAM: Taber bantam "AA" Golden Suns (1-4) dropped both of its games in SCAHL action this past weekend.
The team fell 5-3 in a tight game on the road on Saturday against Airdrie Lightning (6-2).
William Wallace, Mason Sande and Tanner Turcato all scored for the Suns. Haysyn Ostrup had two assists with Bryce Feldbusch, and Brandon Hauck getting assists as well. Dalton Demers faced 28 shots on net.
The team continued its road trip on Sunday with an 8-2 loss to Wheatland Warriors (6-3).
Seth McCulloch and Kole Fujita scored for the Suns. Wallace had two assists and James Halverson and Hayden Mack each had single assists. Carson Adams faced 39 shots on net for the Golden Suns.
Taber bantam "AA" Golden Suns host Lethbridge Hurricanes this Friday at the Taber Arena at 8:30 p.m.
MIDGET: Taber midget "AA" Golden Suns (4-3-1) split its pair of SCAHL games on the weekend starting off with a 5-4 win over CBHA Blackhawks (1-1-1) on Friday night at the Taber Arena in exhibition play.
Mack Honess, Ace Wenbourne, Brandon Langridge, Dylan Heppler and Justin Tams all scored for the Suns. Heppler also drew two assists and Nick Badura, Logan Middleton, George Bertoia and Logan Wiebe drew assists.
Broc Merkl faced 38 shots on net to earn the win for the Golden Suns.
Taber midget "AA" Golden Suns then suffered a 4-1 loss to Wheatland Chiefs (5-0-1) at home on Saturday night.
Wiebe scored the lone Suns' tally with assists from Langridge and Clay Nevil.
Dylan Swanson faced 27 shots in the loss.
Taber midget "AA" Golden Suns are on the road this weekend with a Saturday game against Edge School Mountaineers and a Sunday game against NWCAA Stamps.