Atom game reunites past Myers glory
Posted on October 15, 2014 by Taber Times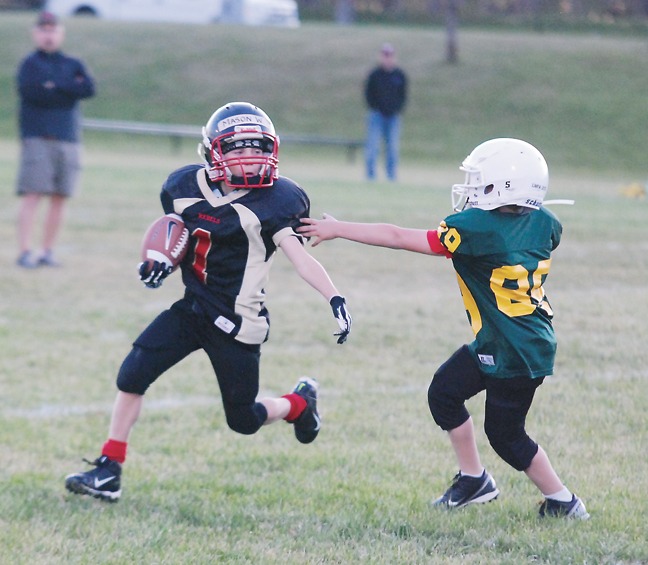 Times photo by Greg Price
By Greg Price
Taber Times
gprice@tabertimes.com
Last Thursday at Ken McDonald Memorial Sports Park saw a football family reunion of sorts.
Former co-coaches of a provincial-championship winning team at W.R. Myers, this time Graham Abela and Wayne Pallett were on opposite sides of the field. Parenthood has made them into atom football coaches as the atom Rebels battle the atom Rams from Lethbridge.
"Wayne and I have always been in conversation and communication since he left Taber to be a principal in Lethbridge," said Abela who also serves as police inspector for the Taber Police Service. "In our professional lives we touch base quite a bit around threat assessment in schools. But this is the first time we have come head to head as coaches."
Ironically enough, neither Pallett's or Abela's children played in the game with Graham's son out with illness and Wayne's son out with injury.
"He (Wayne) was a football mentor to me and so in the pre-game talk on the Wednesday I told the kids it would be great to beat them," said Abela with a chuckle as the two coached together at W.R. Myers for six years.
Alas, it would be the Rams that would end up being the victor on the scoreboard last Thursday, but at the atom level, it is all about player development and making sure the kids have smiles on their faces as they learn the game from Grade 3-5. Having helped coach high school football for 16 years, there has been an adjustment for Abela in bringing his coaching philosophies to younger kids.
"For me it has definitely been a battle of patience. You go back to the very basic fundamentals of football and demonstrate. It's a lot of fun coaching the little guys, they are always exuberant," said Abela. "At the same time there a little bit of fear in them, the fear of the unknown and the fear of being hit. But it's so rewarding seeing my little Grade 3s out there tackle a Grade 5 offence, and they do it well."
Football is such a team sport and Abela noted sometimes people do not realize that as they are first learning the game as either a child or as a supportive parent.
"People think it's all about quarterbacks, running backs and receivers and it's absolutely not," said Abela. "Every play has an individual going out there against an opponent in front of them and having do what needs to get done in order for the whole play to work properly. You teach the kids it's not all about the superstar receivers and running backs. I find there's a lot of people who watch football, but not a lot of people understand it. There are so many things going on at so many levels during a play."
Teaching fundamentals and letting all the kids play and have fun is Abela's goal.
"I really don't care what the score is in atom football. We could run the score up if we wanted. But we choose not to do that and we choose to get everyone in," said Abela.
"Sometimes that's the most difficult thing to do. We have a lot of kids at atom and when you have 26 kids and 14 of which are in Grade 3 and all of them yelling at you 'coach, coach, coach' sometimes some of them can get lost in the shuffle. There's a lot more to it than just standing on the field with a whistle, but I have a lot of good help with other coaches."