Bantam Rebels battered in two tough losses
Posted on October 8, 2014 by Taber Times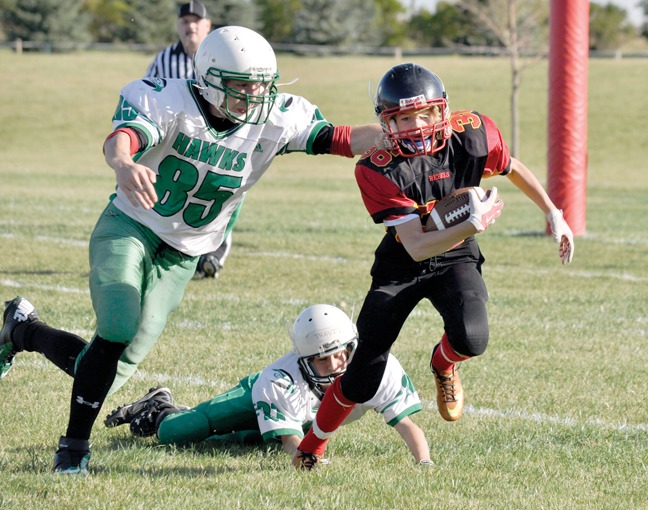 Times photo by J.W. Schnarr
By Greg Price
Taber Times
gprice@tabertimes.com
It was a tough week both mentally and physically for the Taber bantam Rebels team who suffered two losses in four days in Southern Alberta Minor Football Association play this past week.
The first was a 45-7 loss to the Brooks Roadrunners on the road last Wednesday.
"That was probably the best Brooks team I've seen in all my years of coaching bantam football. It was literally men against boys. We could not tackle them, we could not block them," said Garrett Simmons, head coach of the Taber bantam Rebels football team. "They were big and they were fast, and they had a small army of kids on the sideline that they could substitute regularly. We were playing guys both ways just to get through the game."
It did not help matters that the Rebels suffered several injuries mere minutes into the game against a top-flight program like Brooks possessed with the look of a provincial favourite.
"We had three kids injured basically before the opening snap and that set a negative tone. Our starting left tackle, our starting defensive tackle and our fastest player were out pretty quickly in the game," said Simmons. "We were already down the (SAMFA) offensive lineman of the year, so it made us incredibly thin."
Brett Andrus scored the lone major against Brooks.
Taber bantam Rebels then suffered a 35-12 loss to the Medicine Hat Hawks in what many observers could consider a questionably physical game.
"One of our starting linemen got hurt during the game, we had another starter go out with a concussion and add in a couple of other guys on the sideline, with our low numbers it got to the point in the third quarter we were looking around to see who we could put in certain positions," said Simmons.
"It was getting desperate at times. Medicine Hat certainly made a concerted effort to have their offensive linemen cut blocking our guys aggressively, taking them out at the knees. There were also a lot of hits after the whistle and hits that were questionable that they got flagged on."
"When they look over and see a short bench, I guess that's part of their strategy. Cut blocking is within the rules, but it's not something we would ever teach our kids to do. The health and well being of Grade 8 and 9 kids is more important than winning a football game. If you end up cut blocking some kid by putting a helmet to their knee and tearing it up when he is in Grade 8 or 9 and still growing, that's not in anyone's best interest."
Evan Harkness scored on a 70-yard ramble which started off as a broken one-yard tough team play in which the Rebels were simply meaning to move the chains with three fresh downs. Brandon Szigili scored on a kick return touchdown.
"We moved the ball really well in the first quarter. We had a great chance to make it 14-7 late in the first half, using the hurry-up offence we moved the ball down to the seven-yard line in just over a minute, carving them up through the air," said Simmons. "We couldn't get that last play, making it 14-7 going into the half would have been huge. We could have kicked a field goal, but our starting kicker was unable to make the game and our backup kicker was hurt."
Taber bantam Rebels travel to Medicine Hat on Saturday to take on the Parkside Pythons at 2 p.m.