All Golden Suns programs record wins
Posted on October 1, 2014 by Taber Times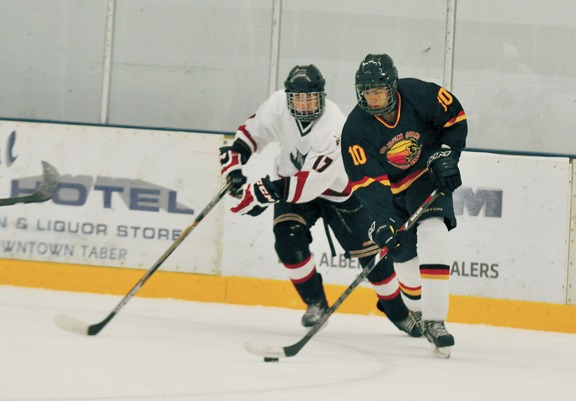 Times photo by Greg Price
By Greg Price
Taber Times
gprice@tabertimes.com
Taber bantam "AA" Golden Suns won its first game of the young season with a weekend split.
The team was shutout at the Taber Arena on Friday night with a 4-0 blanking at the hands of Red Deer Chiefs. Dalton Demers faced 29 shots on net.
The team rebounded to take a 5-2 win over Medicine Hat Venom on Saturday at home.
Kolten Heins notched two goals and Hayden Mack, Adam Seefired and Kole Fujita each had singles.
Fujita also drew an assist along with Kyle Hulit, Mason Sande, Daylen Parker, Mack and Quinn Slezak.
"The kids were playing their positions and they spread out more and not bunched up," said Dan Slezak, assistant coach for the Taber bantam "AA" Golden Suns. "We started pretty good in both games, but we played more of a positional game on Saturday than we did on Friday."
Carson Adams was solid in net to earn the win, facing 43 shots.
"He was on his game, that's for sure," said Slezak.
Taber bantam "AA" Golden Suns hit the road on Saturday for a game against Okotoks Oilers. The team returns home for a Sunday match against Foothills Bisons at 3:30 p.m. at the Taber Arena.
"We have a lot of heart and a lot of character. We just need some time to put the positional play together," said Slezak. "These are good kids and we are going to have fun this year. Everything should come together by Christmas time."
MIDGET: Taber midget "AA" Golden Suns split its first two games of its 2014-2015 SCAHL season.
The first game was a 7-4 loss to Okotoks Oilers on the road on Saturday.
Austyn Moser, Brandon Langridge, Mack Honess and Dylan Heppler scored for the Suns. Moser, Jedd Horvath, and Justin Tams drew assists.
Dylan Swanson was under siege in net, facing 51 shots.
The team rebounded to earn a 6-2 win over Bow Valley Timberwolves on Sunday at the Taber Arena.
Moser tallied twice to go with two assists. Logan Wiebe, Ace Wenbourne, Langridge and Horvath rounded out the scoring with singles. Horvath and Langridge also drew two assists with Clay Nevil, Honess, Riese Nevil, Ryan Tessemaker and Kaleb Many Fingers having single assists.
Broc Merkl earned the win in net, facing 28 shots.
Taber midget "AA" Golden Suns host Red Deer Graphics on Friday at 8:30 p.m. at the Taber Arena. The team travels to Lethbridge on Saturday to tak eon the Hurricanes.
PEEWEE: Taber peewee "AA" Golden Suns are off to a good start to its 2014-2015 South Central Alberta Hockey League season as the team won both of its games at home at the Taber Arena over the weekend.
The team started off with a 6-4 victory over Red Deer Parkland on Saturday afternoon.
Kalem Haney potted the hat trick and Derek Tonnin tallied twice. Rounding out the scoring for the Suns was Derrien Tonin. Derrien Toni recorded three assists and Colby Garner had two helpers. Also drawing assists were Carson Haynes, Haney, Kolby James and Blake Kondor. Brayden Peters earned the win in net, facing 37 shots.
The team continued on to trounce Bow Valley Timberwolves Red 8-2 at home on Sunday afternoon. James and Haney both potted two goals apiece. Derek Tonin, Tristan Miller, J.D. Hall and Garner all had singles. Cash Regan and Miller each registered two assists with James, Derek Tonin, Garret Harty, Spencer Mehlen, Haney and Tyran Kiss each getting helpers as well.
Blake Vaselenak faced 30 shots to earn the win in net.
Taber peewee "AA" Golden Suns host Southwest Rockies on Saturday at 3 p.m. at the Taber Arena before traveling to Okotoks on Sunday to take on Oilers Black.