Auroras shine above tourney competition
Posted on September 24, 2014 by Taber Times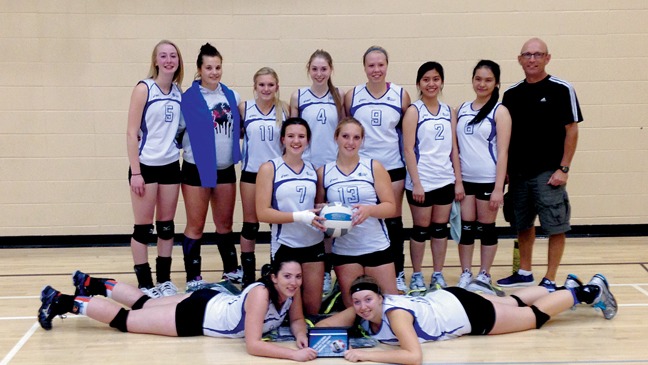 Times photo submitted
By Greg Price
Taber Times
gprice@tabertimes.com
The St. Mary's Auroras varsity girls volleyball team shone bright over the weekend in Three Hills as the young team continues to grow.
The Auroras bounced back quite nicely from a set down to win the tournament title against the hosts, eventually winning the deciding third set 15-10.
"We are getting better which is a huge thing. We started off at the beginning of the season, we had 16 kids come out and we were 16 individuals," said Pat Pyne, head coach of the St. Mary's Auroras girls volleyball team. "They are coming together as a group, they are communicating better, looking after the little things. It's a lot of fun to be part of right now seeing that improvement."
The tournament was a one-pool, round-robin format that saw the Auroras tie with host Three Hills for best overall record at 8-2. Three Hills earned top spot due to a one-point tiebreaker in their head to head match in pool play.
"We were not perfect, but the improvements that were most desperately needed at the beginning of the season, we are getting them and we are getting better," said Pyne. "I can see flashes of brilliance in all types of places. It's coming from everybody, it's not just one or two people dominating in their position. Everybody is getting better and they are enthused in what they are doing."
It was a top-heavy pool, in Pyne's estimation, where the hosts looked like the team to beat, along with Rosemary and Bassano.
"Three Hills is a strong 2A team this year and Bassano and Rosemary are strong in 1A," said Pyne. "Looking at the teams, it's important that you play the games. You hear it all the time, this team looks good on paper, and really maybe we looked like the third or fourth-best team going in. But team play is everything and our defence and serve receive has improved so much and it showed in the final result, in giving us a chance every time."
The Auroras were dominated by host Three Hills in the opening game of the championship match, but was able to regroup to take the tournament title.
"They blew our doors off in the first set, coming off an emotional high. They were so efficient, it didn't seem like they missed an attack in the first set," said Pyne. "But we made a couple of little changes, talked about the score being 0-0 (in the next set), and we took the momentum back. We didn't fold, no one got super excited or super down about it. The girls showed a lot of character."
The Auroras traveled to face Kate Andrews Pride on Tuesday with results unavailable at press time. The team travels to CCH to battle the Cougars today and then are off to a tournament at Kate Andrews on the weekend.