HS Rebels round up Pride in win
Posted on September 17, 2014 by Taber Times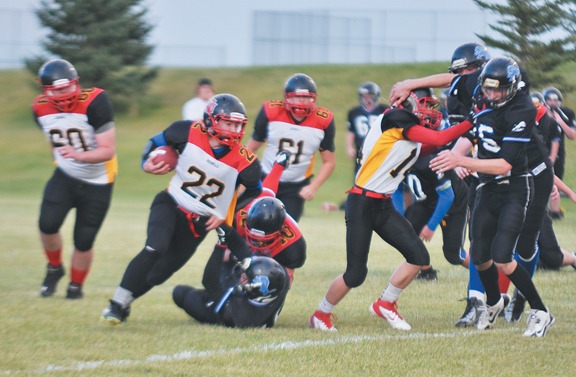 Times photo by Trevor Busch
By Greg Price
Taber Times
gprice@tabertimes.com
A wild and wacky first half settled down in the second half, as the W.R. Myers Rebels football team was able to have the crowd go home happy on Fan Appreciation Night.
The hometown Rebels were able to earn a 23-21 victory over Kate Andrews Pride on Friday at Ken McDonald Memorial Sports Park.
"Defensively, we were able to figure it out in the second half. They had three or four two-and-outs," said Adam Hughes, head coach of the W.R. Myers Rebels football team.
"We made some adjustments at half-time with some miscommunication with their first couple of drives that led to some open receivers. Again, our run defence was really strong and our pass defence needs some work."
While the second half featured an on-the-scoreboard stalemate, the Rebels were still able to move the ball effectively offensively, but stalled repeated times in the red zone.
"We were able to move the ball quite consistently in both halves. We got it inside their 10-yard line three times," said Hughes.
"But then there was an interception, a holding penalty that pushed us back to third-and-15 and another stall. We still had success moving the ball, but we just couldn't punch it in."
Dylan Tams and Nathan Bennett continued to rack up yards on the ground for the third straight game with Blake Bullock completing some long passes.
"He took a step forward where he was 5-for-6 passing the ball," said Hughes.
"That was a credit to our offensive line buying him some time. The passing game clicking, when you have a couple of ways to attack, the defence has to play honest where you can use your running strengths even better."
Kate Andrews Pride has some very huge players on the offensive line, but the run defence remained solid thanks to Ryan Harkness and Nic Jensen, along with middle linebacker Tom Platt.
"With the pass defence, we are more than capable. But there is just some confusion and miscommunication where we will be better with that. All the mistakes we made, there were some pretty major mistakes made in the first half. But they are all real fixable mistakes which is promising," said Hughes.
"On the flip side, Kate Andrews had a solid quarterback and watching the film, they had three or four really strong linemen, looking twice the size of our linemen. They were a good team and they were a good test. This was our first division game, and so to be able to see where we need to put things and get a win is a double bonus for us."
The Rebels are off to play Winston Churchill Bulldogs on Friday at the University of Lethbridge at 5 p.m.
The W.R. Myers Rebels return home on Tuesday at 7 p.m. at Ken McDonald Memorial Sports Park to play Cardston Cougars.