Second quarter costs bantam Rebels
Posted on September 10, 2014 by Taber Times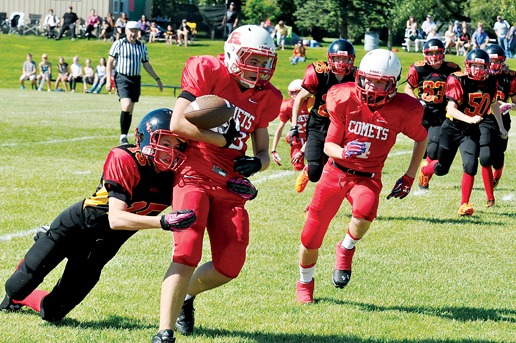 Brett Andrus of the Taber bantam Rebels football team corrals a Raymond running back with a tackle during Southern Alberta Minor Football Association action at Ken McDonald Memorial Sports Park on Saturday afternoon.
A solid start turned into a tough second quarter for the Taber bantam Rebels, Saturday against Raymond.
With the game tied at zero after the first quarter, things took a turn for the worse when starting offensive guard and middle linebacker Wyatt Thurston went down with a shoulder injury. A couple of bad penalties gave Raymond a short field and the Comets capitalized for two quick scores to go up 14-0.
A fumbled kickoff to start the second half pinned Taber deep, and led to another quick score by the Comets, as Raymond ran to a 28-6 win.
"We really had a great start," said Rebels coach Garrett Simmons. "We racked up over 90 yards in the first quarter and had the ball for nearly the entire quarter."
Taber couldn't translate that into points, however, as a couple of key miscues in the second quarter led to Raymond points.
"We played them really well defensively too, but a couple of big 15-yard penalties on our part on two of those Raymond drives really proved to be the difference," said Simmons.
The Rebels rallied back for a strong final 12 minutes, and scored a touchdown in the fourth quarter as Orion Young ran the ball in from 17 yards out. That capped off a quick drive set up by a Brandon Szigli kickoff return.
"We were able to get Brandon his equipment the day before, so he only had one practice under his belt," said Simmons. "We weren't expecting to get him in the game at all but a couple of kids were beat up and we had a few injuries so we decided to put him in for a kick return and let him do his thing."
Szigli raced down the sideline and nearly took it in for a touchdown, before he was caught at the 17-yard line.
That helped cap off a strong quarter for the Rebels, against a Raymond team expected to be one of the top teams in the league once again.
"Really, that was a game we controlled the play in for the first and fourth quarters, and it was just a few lapses in the second and third that cost us," said Simmons. "We moved the ball well, our defence played great, even without Thurston, one of our leaders, and there were some positives to take away."
On defence, Evan Harkness recovered a couple of fumbles, Ashton Werewka jumped on another loose ball and Colton Weinberger came up with an interception. Harkness led the team in rushing on offence, while Wienberger also connected with Harkness, Corny Froese and Brett Andrus on pass plays, to pace the offence.
This weekend, the Rebels had Pincher Creek scheduled to come to town for a 1 p.m. game.
That game has been postponed, however, as Pincher Creek was unable to form a team for the weekend. The Rebels will take on the Lethbridge Bulldogs instead on Saturday, though a time and location were not set as of press time.