Raiders finish .500 at home tournament
Posted on September 10, 2014 by Taber Times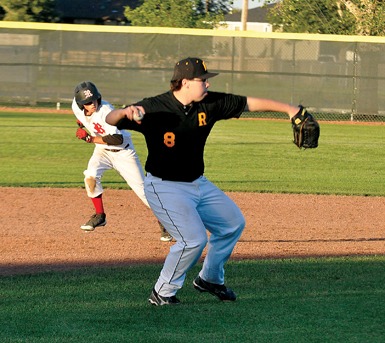 Taberite and Bow River Raiders' third baseman Joel Dalton throws over to first base after snagging a grounder against the Strathmore Reds on Saturday evening at Jets Stadium in Vauxhall.
By Greg Price
Taber Times
gprice@tabertimes.com
It was exactly the upward curve of improvement head coach Rob Virginillo was looking for with his Bow River Raiders fall baseball team in its first weekend of play.
The team managed a 2-2 record in its four games at Jets Stadium in Vauxhall.
"It was evident the first couple of games, we made too many errors, but it was just a matter of repetitions they were not able to get prior to playing not getting enough practice in together. They were not quite a team yet not having played together at certain positions," said Virginillo. "But as the weekend continued, you saw that improvement. We had the comeback on the Saturday and we pitched the shutout on Sunday. As the games went on, you could see us get better."
The Raiders dropped its first game 13-8 against the Medicine Hat Knights on Friday.
"But we gave them like five or six unearned runs with errors," said Virginillo.
The Raiders were very close to having a 3-1 record in weekend play in a heart-breaking 11-10 loss on Friday evening.
"Our second game was the one that was disappointing because it was probably the best team we were playing that weekend in the Calgary Blues from what I saw. We had a 10-5 lead, but after our starter left, our bullpen couldn't hold it. We gave up four in the sixth (inning), and two in the seventh," said Virginillo. "They were the toughest team and we were winning. We had good pitching, but then we got behind them making a couple of errors that cost us and then after we couldn't throw strikes which is your typical breakdown."
The Raiders' character game was on Saturday evening in a big come-from-behind victory against the Strathmore Reds 12-11.
"We were behind, got the lead, lost the lead and then got it back. I told the guys if we scored 10 runs we were going to win," said Virginillo. "We were down 8-1, then an 10-8 lead, then they made it 11-10 and we came back again. It was a good back-and-forth game. Definitely after we took the lead and we gave back those two runs, they easily could have quit and they didn't."
The Raiders finished its weekend strong with a 5-0 shutout of Calgary Redbirds. The Raiders had a shutout due to the combined efforts of four pitchers.
"It was a great game. Solid pitching with no errors. I think our pitchers combined for a three hitter," said Virginillo.
"I saw what I wanted to see. I saw guys who could throw strikes right now and guys who couldn't. Guys that I didn't know if they could pitch, did. We saw guys who were going to be a leader and who wasn't. And now next weekend, hopefully we will get a better idea of who to bat where and pitching as starters and progress from there."