Taber Viper Swim Club makes medal splash in provincial pool
Posted on August 20, 2014 by By Greg Price gprice@tabertimes.com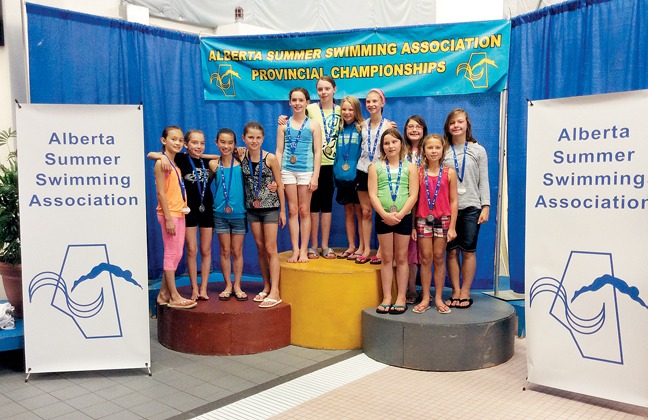 There were nine Vipers who made their way to Alberta Summer Swimming Association provincials in Edmonton this past weekend in which some returned with some shiny new medals.
"I think our swimmers did really well. We had a lot of personal-best times and we came home with quite a few medals," said Caitlyn Nichols, head coach of the Taber Viper Swim Club.
"It was a really awesome weekend."
Darci Wright dominated her nine-and-10-year-old girls field, taking gold in all four events she entered including 50-metre fly (35.39), 25-metre fly (15.70), 100-metre freestyle (1:14.16) and 50-metre freestyle (33.28).
Chance Cook had all the colours of the rainbow when it comes to provincial medals including a gold in 50-metre freestyle (29.17), a silver in 100-metre freestyle (1:06.20), and a bronze in 100-metre backstroke (1:18.77) for 11-and-12-year-old boys.
He also earned a fifth-place finish for 50-metre breaststroke (41.82).
"They have been at the top of their age group all season long. It was great to see them go into provincials and come out with some medals," said Nichols.
A Viper contingent of Jessica Anderson, Tayla Silver, Shea Garner and Darci Wright earned silver for 10-and-under girls 100-metre freestyle relay.
Other top-five finishes included Jessica Anderson taking fourths in 100-metre IM (1:33.05) and 50-metre fly (39.77) while also taking fifth in 25-metre fly (17.31) for nine-and-10-year-old girls.
Other Vipers who qualified and made the trip to provincials included Dylan Saunders, Renae Saunders, Danielle Wright and Genna Wright.
"It was a great season and I was glad to get a chance to be with the swimmers and coach them. It was awesome," said Nichols.
Taber Viper Swim Club will finish the season with its year-end awards on Aug. 28 at the M.D. Park.