Senior category just right for Turner
Posted on August 12, 2014 by Taber Times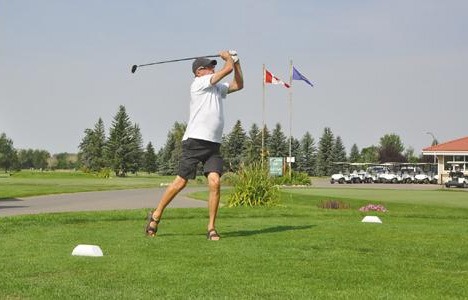 The senior club championships among the genders at the Taber Golf Club had plenty of subplots for 2014.
With new age parametres set up for the super senior men's designation, the 65-year-old Monte Turner could have taken the easier route as the youngster among the super senior ranks. But, Turner decided to stay among the senior ranks, and reclaim the title he earned back in 2008, thanks to rounds of 73 and 78.
"My round of 73 is really good, 78, it wasn't a great round, but it was good enough," said Turner with a chuckle for the golfer who usually shoots anywhere from between 72 to 80 on the course on any given day. "My first round I had a lot more putts drop in. Putting makes a heck of a difference when you're playing."
Up two strokes on Randy Hart after day one on Saturday at the Taber Golf Club, Turner was able to lengthen it by a stroke for a three-stroke victory to take the senior men's title on Sunday at the Taber Golf Club.
"I play a lot of golf with the guys who are in the senior group. The first day, you pretty much make up your own group to golf with. The guys I played with are usually the guys I play with all the time," said Turner. "I played with the past senior champion from last year (Greg Haynes). The competition was there, it was a good group to golf with."
When it came to the senior ladies' title at the Taber Golf Club, Rose Gerlock simply thought she was already out of it after a first round of 100 on Saturday who usually cards in the low 90s on the course.
"I was 11 shots behind," said Gerlock who roared back to shoot an 87 during her second round on Sunday.  "I was much more relaxed (the second round because I thought I had no shot in hell. I was comfortable and relaxed and that made a big difference. Golf is a mental game."
A big difference indeed as the impressive second round gave Gerlock the senior ladies title by two strokes, which she won back in 2011 as well.
"We flip flopped, I shot 100 the first day and she shot 89 and the second day she shot 100 and I shot 87."