Shooting foundation holding open house
Posted on August 7, 2014 by Taber Times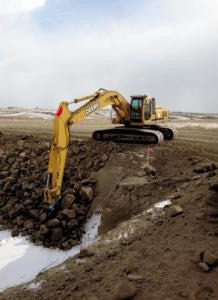 For those wanting to get an up close personal look at the new Municipal District of Taber Shooting Complex, they can do so by attending an open house on Aug. 16 from 11 a.m.-2 p.m.
"We want to allow people an opportunity to come and take a look around the range to see what has been accomplished so far," said Morgan Rockenbach, a member of the Taber Shooting Foundation. "We do have some fencing in place and the 100-metre range complete and give people a look at the remaining ranges to see what point in progress it is at."
The 100-metre range is completed with the 200-metre, 600-metre, 50-metre and five bay action ranges approximately 70 per cent complete according to Rockenbach.
"It will really depend on the weather. If we can start again in the fall and resume construction that would be great, otherwise it will be pushed to the spring," said Rockenbach.
At the open house, the Taber Shooting Foundation will also be canvassing individuals, groups or corporations that are willing to donate to projects with sponsorship opportunities.
"The popularity of shooting sports in my view is active. There are several different styles of shooting sports that people engage in, not only in southern Alberta, but the rest of the province as well," said Rockenbach. "That is our focus of this range is to accommodate all those different styles all in the same location. That is an appealing venue, especially to beginning shooters, because they can try all the different shooting styles and see what they like."
Taber Shooting Foundation is currently looking for official approval from the chief firearms officer for the province with the application currently on file.
"When that approval is given, we will have the access gate active and then officially open the 100-metre range which we hope will be by September," said Rockenbach.
The Taber Shooting Foundation will also be taking memberships at the open house in which any membership will be active until the end of the 2015 shooting season at a cost of $100.
"Having access to all the ranges, we did not think that was unreasonable for a fee," said Rockenbach.
Spectators will get to see first hand all the hard work that went into the shooting complex
"We've spent many, many hours and many, many days on this where the idea for this began in the fall of 2010. That's when people first started talking about this and began to investigate the possibilities," said Rockenbach.
"We gathered groups together that were interested and formed a society and then the real work began. The actual construction began last fall and progressed to the stage we are at now."
M.D. of Taber Shooting Complex is located on Highway 864 north of Taber, beside the Taber Motocross Park.