Swartz still having a ball after 25 years
Posted on July 16, 2014 by Taber Times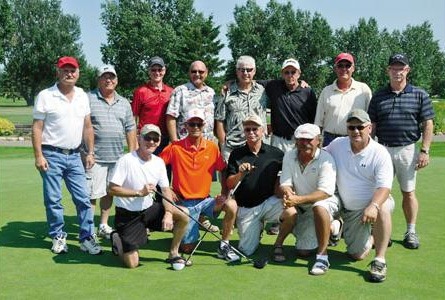 There have been 25 years that have passed, but for many of the 1989 Swartz Petroleum team that won the Canadian Master Men's Softball Championship meeting at the Taber Golf Club on Saturday afternoon, it was like a day had not passed.
To celebrate the accomplishment that got the team inducted into the Taber and District Sports Hall of Fame in 2005, the majority of the members enjoyed some golf, followed by a hearty steak dinner on a day that involved plenty of meaty stories during the 25th anniversary of the accomplishment.
"When we were in the beer gardens we came to play and when we were on the diamond we came to play," said reminiscing Swartz team member Bob Miller with a chuckle, as players confirmed they were dubbed the Hillbilly Hicks by some. "It was a special time where the camaraderie and the harmony made it work."
A bunch of good ol' farm boys coming off their combines, in which 16 of its 17 members were from the Taber, Vauxhall, Enchant and Hays area, the team exceeded expectations which saw them earn the title in London, Ontario. A very giving southern Alberta rural community donated $8,300 in two weeks to help offset costs of the tournament for the team. The team returned to a hero's welcome that saw them greeted by then Taber Mayor Paul Primeau, MLA Ray Speaker, MLA Bob Bogle and several Taber council members with a civic reception in their honour and presented engraved mugs.
"The whole community was behind us," said Miller.
Just getting the team together was an accomplishment in itself as rural rivalries were prevalent between the areas of Taber, Vauxhall, Enchant and Hays. Playing against each other for 20 years leading up to nationals in either hardball or slo-pitch can get some rivalries going.
"It's the small town thing. There were fights at dances. Some of us didn't like each other growing up," said a laughing Bruce MacMurchy, who was too young to participate in the Masters national softball tournament, but acted as a manger to scout all the teams and made sure all the preparations were done for the team, such as vans for transportation. "But, we grew to like each other and got to know each other through ball."
Some players during peak slo-pitch season played an MLB -equivalent season of 162 games when you factored in leagues and weekend tournaments on the coattails of slo-pitch popularity in southern Alberta.
"Jack (Dunsmore) and I, for three years, played on two different teams in two different leagues and then tournaments every weekend," said Miller. "That's what you did, that's all you did back then. We were poor, that's all we could afford to do was play softball."
The Swartz Petroleum Softball team finished the highly-competitive 14 team men's league at the time with a 17-2-1 record. The next step to slo-pitch greatness in order to qualify for the national tournament was to win a provincial title. The team did just that on July 30, 1989 in Bow Island, beating host Bow Island in the provincial final in which the hosts acted like they were psychics. Given a quick two-week turnaround from provincials to nationals, the Bow Island team had already booked their flights to nationals with new team jackets in tow and so they were not very happy with the Swartz victory.
Swartz Petroleum partied between games as hard as they played which was a sign of the team's camaraderie. Rumours abounded of showing up late a few minutes for a game, once the team van doors opened that seated 17 people, it was a recycler's dream of what dropped out in the number of cans that fell. That camaraderie seemed to be lacking in the heavily favoured Ontario team they squared off against in the semifinals.
"They had (some) semi pro players on their team, they were the favourites hands down," said McMurchy.
Swartz Petroleum finished 5-3 in round-robin play, putting them in the top half of the playoff bracket. Swartz had lost to the Ontario team in question 11-4 in round-robin play as the Ontario team went undefeated 8-0 in round-robin play.
Down 6-0 in the semifinal game, Swartz would go on to be victorious 8-7 in extra innings.
"All we focused on was getting to the medal round with two lives. We controlled the beer gardens and that Ontario team didn't even friggin' stick their nose in the beer gardens once. Our camaraderie was number one where we played for each other," said Miller. "That Ontario team, once their game was over, you didn't see them again until the next game. Thirteen players went their thirteen separate ways. Our camaraderie built game after game where we made plays. People were stretching out for diving catches and came up throwing, those types of plays became expected because we were making them. Between the defensive plays and guys getting timely hits, things were happening."
These were the days of limited-flight balls with softer cores and bat technology unlike today where any solid hit resulted in a home run where tournaments of today have home run limits before they turn into outs. Bob Fettig noted only three out-of-the-park home runs were hit by all of the nine team, featured combined at the tournament.
"We were a very strong fundamental team that was solid defensively who sprayed singles and doubles into the gap," said Bob Fettig, who was selected as a tournament all-star with Rick Vik named MVP.
The Swartz team with its many colourful characters got a bit of a cult following in Ontario as certain non-Alberta fans would follow the team everywhere to their games. Umpires confirmed after the championship final there were many in the crowd from Ontario who bet on the huge underdog Alberta team who was one of the most friendly at the tournament.
Those bets proved profitable as Swartz would beat London's Old Bamboo 6-2 in the final.
Swartz Petroleum adopted a single mother's child who was at the tournament as their honourary bat boy in a wide-eyed kid named Brody.
When the championship jackets were presented, the Swartz team refused to take them unless the Labatt's representative promised to give one to Brody as well.
"They presented our medals and our jackets and they didn't have one for the bat boy. We weren't going to take those jackets without him," said Dunsmore. "He was a member of the team. Everywhere we went, he went with us. That final game, over half the crowd was cheering for us. We were a fun, laid-back team that didn't expect to win, and maybe that helped us."
As the various members of the Swartz Petroleum team told their tales of that dream 1989 season, some publishable, others not so much, they admitted the details were a little hazy. But as Fettig noted, for any Taber or Vauxhall team that earns a major accomplishment in sport, details are second to the friendships built.
"You can tell kids 25 years from now, it's not the games or the scores you're going to remember, it will be the fun."
The 1989 Swartz Petroleum team consisted of Tom Jespersen, Rick Vik, John Christensen, John Jespersen, Elmer Doerksen, Kevin Virostek, Bob Miller, Bob Fettig, Ron Kerner, Eric Tilleman, Bruce MacMurchy, Brian Easthope, Jack Dunsmore, Murray Brown, Bruce Jespersen, Greg Pyne and Ray Bryant.