Hole-in-one oddity featured at Taber Golf Club
Posted on July 16, 2014 by Taber Times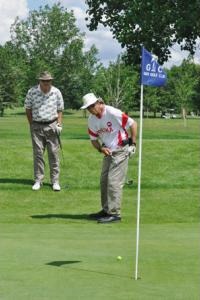 According to Golf Digest, which has been tracking the data for over 60 years now, the odds of an amateur golfer making a hole-in-one is 12,500 to 1.

Given the feat that was accomplished at the Taber Golf Club on Saturday, the statisticians must be working into overtime with its probability formulas.

Two hole-in-ones were made, recorded by two separate golfers with one each, during the same round, in the same foursome on the same day.

Dr. Gerald Beckie who has been golfing for 50 years, recorded his first ever ace on No. 6 at 122 yards out.

"I haven't even come close before I think," said Beckie with a chuckle. "I used an 8-iron. It was actually not a very good shot. It was a slicing low shot that ran up to the pin. I'll probably never get another one with the fluke way I got this one. It was a very unusual event."

Brian Gladys' was a bit prettier on No. 17, but they both counted the same on the scorecard as Brian took his 9-iron to sink the 130-yard shot.

"It landed about six feet short and it rolled straight in," said Gladys, who has recorded four hole-in-ones spanning three different provinces (British Columbia, Alberta, Ontario). "There was a big grin on my face when I saw it go in."

Taber Golf Club professional Ben Finlayson has never heard of the feat that happened at the Taber Golf Club on Saturday.

"I know on the European Tour one guy got two hole-in-ones in the same round, but definitely not two different players in the same group in the same day," said Finlayson.

Finlayson added the Taber Golf Club averages about three hole-in-ones a year.

"We have about 23 to 24 thousand rounds a year so you can imagine what the odds were with what happened on Saturday," said Finlayson.