Spurs earn series split
Posted on June 26, 2014 by Taber Times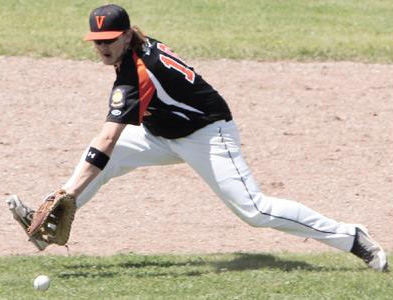 FLASHING THE LEATHER: Taber infielder Matt Perin of the Vauxhall Spurs fields a grounder in action on the road against the Fort Macleod Royals last weekend in American Legion 'A' competition. TIMES PHOTO COURTESY FRANKMCTIGHE
Vauxhall Spurs baseball team earned a split against Fort Macleod Royals on the weekend in a road doubleheader in American Legion 'A' competition.
The first game was a 12-2 win in which the Spurs showed the consistency head coach Joel Blake has craved since the start of the season.
"Our first game, I thought Ryan Marshall set the tone early on the bump, getting ahead of a lot of hitters. The arm speed is coming and it's good see guys improving being a rewarding feeling," said Blake.
"He has been working hard and it's showing. We helped him where we came out and swung it  and put up a bunch of runs."
Marshall had some issues with walks according to Blake, but the Royals were not able to cash in thanks to a tightened up attention to defence in which the Spurs were not stung by the free passes overall.
"He left most of them stranded. We played tough 'D' and give them credit, we kept our heads in it and made some big plays when we had to," said Blake.
The second game which was a 7-4 Spurs loss had the team face one of the Royals top hurlers according to Blake.
"He threw two different pitches consistently for strikes and at this level it makes it a lot harder for the opposition," said Blake. "He did it pretty consistently where we were down in a lot of counts."
Spurs did not help their cause on the pitching mound as there were five walks and five hit by pitches along with being saddled with an umpire with an erratic strike zone for starter Eric Anderson.
"We had a guy who did not have a consistent strike zone at all, but that's not making excuses because that goes both ways for teams. It's tough for a young kid to pitch to a revolving strike zone," said Blake. "By the end of the game I think we walked five and hit five, so that's basicallY 10 free baserunners. When you walk and hit that many, you don't expect to win."
The home doubleheader last Wednesday against Lethbridge Miners was rained out with the make-up date still to be determined.
Vauxhall Spurs host Tri-County Cardinals today in a home doubleheader starting at 4 p.m. at Jets Stadium. The team also hosts Fort Macleod for a doubleheader on June 30 starting at 3 p.m. and then have a Spurs alumni game on Canada Day at Jets Stadium.
"It's a process having young guys and we are seeing a lot of good things with a lot of improvement and we have to stick with it," said Blake.