A full house for St. Mary's marathon
Posted on June 26, 2014 by Taber Times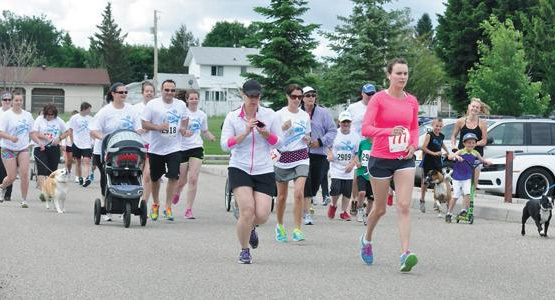 AND THEY'RE OFF!: The success of the inaugural Run for the House marathon may make it an annual event at St. Mary's School. TIMES PHOTO BY GREG PRICE
There were nearly 60 people who registered for St. Mary's inaugural Run for the House marathon Saturday in which participants were met with some beautiful conditions thanks to Mother Nature.
"I was quite impressed in the end. At first I was worried because we had 10 people registered at one point," said Carolyn Siemens, co-organizer of Run For The House with a nervous chuckle knowing full well Taberites like to wait until the last minute.
"I kept saying I know this town, I used to do Summer Games and the Fun Run, this town operates as a last-minute community. Our kids did a great job coming out and supporting the run. The girls volleyball team participated and there were lots of other kids who joined the run job coming out."
The event raised nearly $2,000 for Ronald McDonald House in Calgary as the organization helped a St. Mary's teacher needing its services with a child on the mend.
"There is definite talk of it turning into an annual event," said Siemens. "We had people that participated, we had people who volunteered and people who donated. Without all of them we couldn't have done it, it took a community to pull it off."
The following are the times for the participants of the 2014 St. Mary's Run for the House 5 km Race:
Kaleb Muller 20.24
Lucas Oevering 21.5
Nolan Carter 22.14
Mason Muller 25.07
Laura Mrak 26.09
David DeVos 27.23
Jack Murphy 27.34
Chris Oevering 27.5
Lena Oevering 27.52
Ezra Oevering 29.42
Hallie Horvath 29.5
Alex Makrachuk 29.54
Meagan Driedger 29.55
Logan Meier 30.04
Kate Woudwyk 30.13
Karen French 31.03
Eline Kleinjan 31.47
Mirthe Kleinjan 31.55
Dan Oevering 31.55
Kathy Reesor 32.28
McKenzie Siemens 32.29
Melissa Planger 32.42
Derrick Kromm 33.03
Lydsay Smith 34.11
Nicole Sorocynski Wolaniak   
35.36
Andrea Makrachuk 36.23
Patrick Suace 37.05
Seth Muller 37.07
Kyrsten French 37.27
Saidy Parks 37.29
Sacha Boschee 41.08
Jana Boschee 41.08
Kimmie Paul 41.54
Serina Silver 41.55
Rob Silver 42.4
Raelynn Silver 42.4
Krislin Meier 42.4
Regan Meier 42.4
Ryvin Siemens 42.4
Jennifer Wilson 45.14
Carlee Lagler 47.55
Edan Meier 49.25
Haley Lagler 49.25
Michaela Meldrum 49.43
Kriztine Cobarubias 49.48
Sharmaine Agravante 49.49
Christine Agravante 49.49
Raygan Parks 49.54
Ryan Nightingale 49.54
Joan-Marie Jones 50.03
Amanda Robinson 50.03
Logan Nightingale 50.06
Cindy Wilson 50.24
Angie Meldrum 50.46
Karrie Nightingale 51.05
Mike Nightingale 51.05
Montana Carver 52.34
Serena Collett 52.35
Mikhaila Deheer 58.56
Brandon Olson 58.57