Vikings handle competition easily
Posted on June 11, 2014 by Taber Times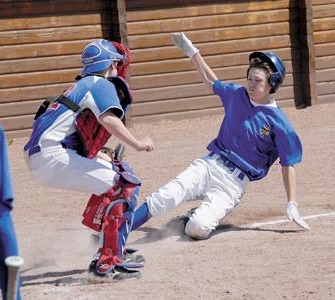 Alberta Baseball playdowns are in full swing among the various age groups and it looks like the Vauxhall Vikings at least for the time being in its current tier its the Major Leagues beating up on 'AAA' competition.
The Vikings, which has a quarter of its roster comprising of Taber players, beat up on its opposition to the tune of 25-4, 25-0 and 13-4 in Cochrane in its first round of playdowns. The team has started off as a bit of a wildcard of where it should be tiered properly.
"To be quite honest, I don't think we are in the right tier right now," said Jim Odland, head coach of the Vauxhall Vikings bantam baseball team of playing in south division II.
We didn't participate in the first two tournaments because kids were playing with other baseball commitments (high school). They did some tiering and we kind of guessed where we would be, but it's not right.
Teams are supposed to play two tournaments at the same tier with the Vikings next tournament scheduled for the June 21 weekend in Lacombe, but they will try and change that.
The Vikings were only able to get in two practices together prior to its playdown, but Odland had no worries as far as individual skills went in staying sharp having played previously high school or intermediate baseball.
"We got a lot of guys into pitch and obviously by the scores a lot of guys had a lot of at bats. We got to see where all the players fit development wise," said Odland. "But the pitching (on the opposition) wasn't good enough to see really how good our hitters are. I think we only saw two decent arms the whole weekend."
As the tiers get sorted out Odland added the team will take it one game at a time as the team looks to make some noise down the road.
"I think we have a pretty good team. Maybe this next weekend we will get tiered up and hopefully it will end up with a provincial tournament in the end."