Spurs looking to dig in defensively
Posted on June 11, 2014 by Taber Times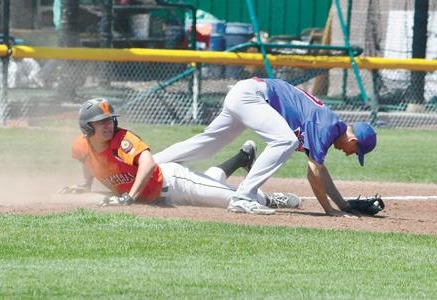 You could excuse the Vauxhall Spurs baseball club if they do not have to see the Medicine Hat Knights for a very long time.
The Spurs just opened up conference play this past week, but of the 11 games the Spurs have played including exhibition, the two teams have tangled eight times.
"We've definitely learned a lot about them. We're probably not going to see them until districts now and I'm OK with that," said Joel Blake, head coach of the Vauxhall Spurs, with a chuckle. "They're definitely a pretty good ball club."
Playing them twice on the road last Tuesday and once again for a doubleheader at Jets Stadium at home on Tuesday, the Spurs emerged with a 1-2 record in which Blake admitted the glovework has to be cleaned up for further success as the American Legion 'A' baseball season progresses.
The first game on Tuesday was a 13-12 loss followed by a 9-6 defeat.
"The first game we put up six in the top of the first. We had (Matt) Melnychuk and he had some control issues. He walked the park quite a bit, and I think it was six or seven in that inning and we brought in (Eric) Anderson. He got us out of it, but we ended up giving nine," said Blake. "We battled throughout the game and we ended up taking the lead, but then we got walked off on. Our biggest issue is playing defence. We just can't take care of the baseball and our scores so far have shown that. We have had leads pretty much in every game we've played late and we can't seem to hold it right now."
The defensive miscues of booted balls that plagued the Spurs in its opening conference series followed them to Vauxhall as the Spurs managed a split with a 14-9 win and a 13-2 loss on Sunday at Jets Stadium.
"Offence has been our key and I'd say it has been our strongest part of our game so far. We've been really swinging it and we put up a lot of runs early (Sunday), but we fell in that same thing. Medicine hat is scrappy and they won't give up," said Blake. "They came back and made it a game for awhile and we ended up scoring a few more and held on for our first win. The second game, they had a right hander that was throwing strikes with some sort of knuckleball who used it as an off-speed pitch and he was very effective. It caught us off balance, but at the same time I thought we rolled over a bit. It was 4-2 at one point and we came out flat, not ready to play."
The Spurs travel to Montana this weekend to partake in a tournament in Helena with games scheduled against the Laurel Dodgers, Helena Reps, Libby Loggers and Mission Valley Mariners. The team then returns to conference play with a home doubleheader against Lethbridge next Wednesday starting at 5 p.m. at Jets Stadium.
"We need to see some changes with the energy level and I'm seeing some laziness here and there and that goes hand in hand with our defensive issues. We got a young team and we got to tell the guys to stick with it," said Blake. "Being down in Helena and our first road trip, hopefully the boys will bond a little bit. There are some pretty good teams down there. I'd love to win it, but as long as we are making strides in the right direction, wins and losses aren't my main concern right now."
SPURS JANGLE: There are five players from the Taber area or attending Taber schools on the Vauxhall Spurs this season: Kaden Fujita, Nolan Gilbertson, Ryan Meier, Matt Perin, and Jason Wong.