Rugby Rebels given all-star nods
Posted on June 11, 2014 by Taber Times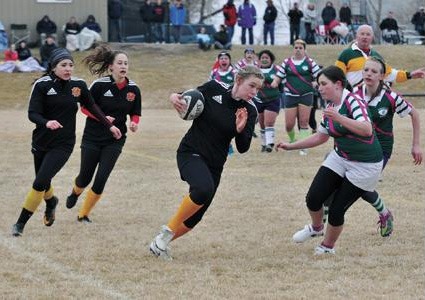 Southern Alberta High School Rugby League handed out their awards and four Rebels were recognized for their stellar play on the W.R. Myers varsity girls rugby team.
Mason Merkl (front row), Paige Wood (back row), Chelsea Hubble (centre) and Amanda Oseen (wing) were all given all-star selections for the blue division.
Merkl has literally been in the trenches for the Myers rugby program, playing on the varsity team when she was in Grade 9 because there was no alternative of a junior varsity program for the now Grade 12 student.
"She took her lumps early and Mason has been a real leader and motivator for us for those four years both on and off the field," said Andrew Llewelyn-Jones, co-coach of the W.R. Myers Rebels girls rugby program.  "That is one of her strengths, getting the girls to rally and to play and to motivate them well. Her skills were quite universal as well, she played in the front row, she played in the back row. In the forwards, she was quite the all-arounder."
Paige Wood's play was so dominating, the varsity team nominated Wood for League MVP for their division which ended up going to Carolyn McKee from LCI in Lethbridge.
"Paige is an exceptional player. What I find about her is her commitment to the tackle and her field awareness is superb," said Llewelyn-Jones. "She is always aware of what's going on around her. She is a fearless tackler and she's a player the girls listen to. She's only in Grade 10 and played JV as well and every time she said something off or on the field the girls paid attention. She was a momentum changer and also quite versatile. In the JV tournament, I played her as an outside half, and also played as a fullback. She was quite adept at switching to whatever position we felt she needed to play."
Chelsea Hubble took to her first year playing rugby as a Grade 11 like a fish to water given her all-star recognition from the league.
"She brings a ton of enthusiasm to the game and is very committed. She is a very strong runner and a very good tackler. Chelsea was one of our standouts in a sense because she was a senior rookie so to speak, she did exceptionally well," said Llewelyn-Jones. "She was strong and fast and really added to the team this year."
Amanda Oseen's was the W.R. Myers Rebels varsity girls rugby team's leading scorer as she did her best impersonation of The Flash.
"Her speed is phenomenal. She's very hard to catch once she gets going," said Llewelyn-Jones. "Her commitment and motivation to the team is very, very good. She leads by example."