Orban family relishing Memorial Cup win
Posted on June 4, 2014 by Taber Times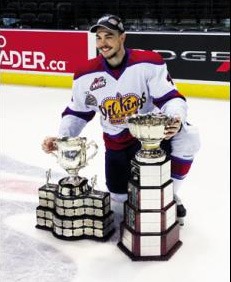 The euphoria of the Edmonton Oil Kings hockey team winning the Memorial Cup has truly been a family affair with some Taber roots attached.
The Oil Kings defied all odds on the way to a dominating 6-3 win over heavily-favoured Guelph Storm with the help of 6-foot-1, 200 pound defenceman Blake Orban.
"The main thing with our team is we are a true team. Everyone had so much trust in each other and we felt so close to each other with no breaks in the bond in the team," he said.
"We were the underdogs and it was the same thing in the Western Hockey League final with Portland. I think everyone wrote us off, being down 2-0 in that series. But we didn't listen to any of it and we took it as motivation."
The Orban hockey blood line has lineage back in Taber with Blake's father Scott having played his minor hockey in the area before playing post-secondary and European hockey for a stint.
Taber's Mr. Hockey, Joe Orban, is a proud grandpa indeed to Blake's accomplishments.
"His parents were in London (Ontario) and watched every game and it was phenomenal. They commented after their first game they lost to Guelph 5-2, they were pretty much written off. Val-d'Or is going to do it, Guelph is going to do it or London will beat them up," said Joe Orban. "All the talk was about the teams from the East. All of a sudden this Edmonton team started playing with two overtime games with Val-d'Or. We're all extremely proud and happy. It was unbelievable. I've had so many people come up to me saying this tournament is an experience of a lifetime, this whole town was very supportive. I was ecstatic."
Grandpa Joe acknowledged with a wink that he had a good feeling about the Memorial Cup final as he watched on the television with his lucky Saskatchewan Roughriders shirt underneath along with his Rider socks to give the Oil Kings some good luck with Rider Pride.
Many, including CBC's Don Cherry, have said that the Memorial Cup is even harder to win than Lord Stanley's Cup. With the adversity the Edmonton Oil Kings had to overcome in the 2013-2014 season, the cliché of a team of destiny definitely fit the bill. Playing a grueling schedule of 100-plus games factoring in exhibition, regular season and WHL and Memorial Cup playoffs, the Oil Kings' resolve was tested over and over again.
The Oil Kings blew a three-goal lead in the third at home against the Portland Winterhawks in the WHL championship in which the team had to go back into Portland the next day in Game 7.
"No team had won the Western Hockey League in Game 7 in the opposition's rink, so that was the biggest thing that helped us going into the Memorial Cup," said Orban.
Throw in a travel schedule that was grueling, playing in Edmonton on a Sunday, in Portland on the Monday, in Edmonton on the Tuesday and then London Ontario on the Wednesday, and you could forgive the Oil Kings' lack of hockey legs in their opening game 5-2  loss to the Guelph Storm in the Memorial Cup tournament. The team's resolve was further tested with two overtime games against Val-d'Or, including a triple overtime semifinal Oil Kings' win that lasted 102 minutes and 42 seconds, the longest game in the history of the Memorial Cup tournament.
"Every challenge we came upon, we believed in ourselves even when other people didn't so much. We got stronger and stronger until that final game," said Blake. "We had some tough times during the season and we drew on that experience. Being a team that went through some adversity, I think that helped us in the long run dealing with it better."
Orban's personal adversity involved missing two rounds of the WHL playoffs tending to an ankle injury.
"It was a crazy season. Getting traded before the deadline I was pretty excited knowing Edmonton was a team that had a chance. My best friend Mitch Moroz from home plays for them and helped the transition really good and I fit in with everyone right away," said Blake Orban. "The ankle injury was pretty tough to deal with. That was the first major injury of my career I've ever had.
"Luckily, everyone took care of me and it healed up in time to be back when it mattered."
The trade of Blake Orban from the Vancouver Giants to the Edmonton Oil Kings in January was a godsend for the blueliner as the sturdy defenceman went from a plus-1 to a plus-32, all while accumulating 137 minutes in the sin bin across the two WHL teams.
"I don't know if he had anything to do with it, but after he was traded, they won 13 games in a row.
"Talking about the Edmonton team, they were a prolific scoring team that could run hot or cold, but I tell you what, they could match up with any team for toughness.
"One thing I can say about Blake is he would not let any of his teammates get pushed around," said Joe, whose bond with his grandson includes near daily texts or phone calls. "Playing for Edmonton, I got to see him play in Lethbridge, Medicine Hat, and Calgary."