Santa's Gone Loonie Event putting the smile back in Christmas
Posted on November 16, 2023 by Taber Times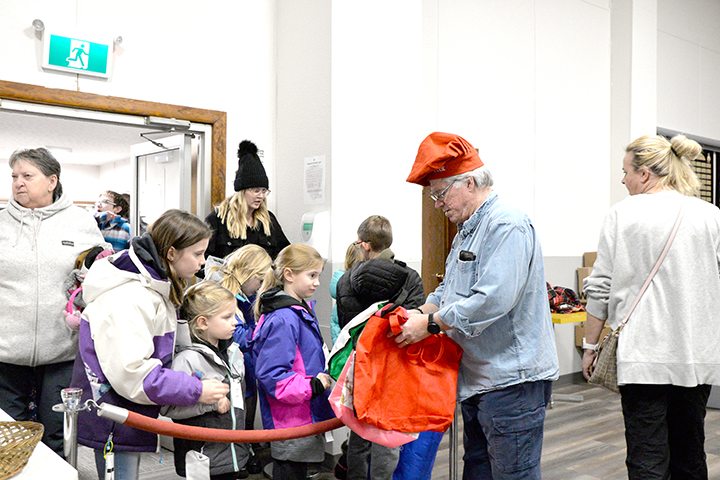 By Heather Cameron
Taber Times
Local Journalism Initiative Reporter 
The 2023 Santa's Gone Loonie Event will take place December 9 at the Taber Legion Hall.
"Santa's Gone Loonie is an event held for children 12 and under," Carm O'Grady, one of the organizers, said. "Kids come and shop for gifts for the adults in their lives. The event is held so that children can come and pick out gifts themselves and their parents have no idea what they're buying."
This event, O'Grady says, was originally started in a different town and brought to the Legion Ladies' Auxiliary, to see if they would be interested in holding it in Taber. 
"All proceeds from this event are used to help support families in need for Christmas," O'Grady said.
O'Grady says that this event involves people from the community donating new or gently used items to the sale, everything for sale costing $1, and each child being allowed to purchase up to five items. The event is open to children 12 and under, O'Grady says, and after the kids come in and do their shopping, the gifts are wrapped, and then taken back to the parents. 
"Volunteers help the children shop," O'Grady said. "Parents are not permitted in the shopping area. This way, they don't know what their child has purchased. The young kids really love being able to pick out their own gifts."
This is an annual event, O'Grady says, and it has been running for six or seven years. 
"The response from the community is amazing," O'Grady said. "We could not run this without their support."
O'Grady says that some people donate money to purchase items for this event, but they always seem to be a little short on men's gifts. Some families don't have the means to purchase gifts, O'Grady says, so this is a very affordable option. If there are families who cannot afford this, O'Grady says, the event is happy to accommodate them as well. Christmas is about the kids so those involved do their best to make sure they enjoy all of it.  
"Our community has been amazing and supports it fully," O'Grady said. "Each year we have more and more people join us, and we know we can rely on our community. For single parents this is great, they have always gone and purchased their own gifts and had their child sign their name to it. I once had a mom thank me because her son was 10 years old and that was the first Christmas she was going to have a gift to open that she didn't know what it was. The parents tell us they can hardly wait to see what their kids picked. Sometimes the gifts are really thoughtful and sometimes, they're quite funny, but the point is the kids picked it themselves."
O'Grady says that the event asks for volunteers every year.
"The more help they get, the quicker we get the kids through the shopping area," O'Grady said. "I truly enjoy this event, the excitement from the kids knowing they get to pick out these gifts themselves makes this so worthwhile. As costs continue to soar it's nice to have this option. Not all participants come from less fortunate families but a lot do. We do not differentiate, this is open to any child 12 and under and as I said, it is so worth it when we see the excitement from the kids."