Remfert secures Town by-election win
Posted on September 14, 2023 by Taber Times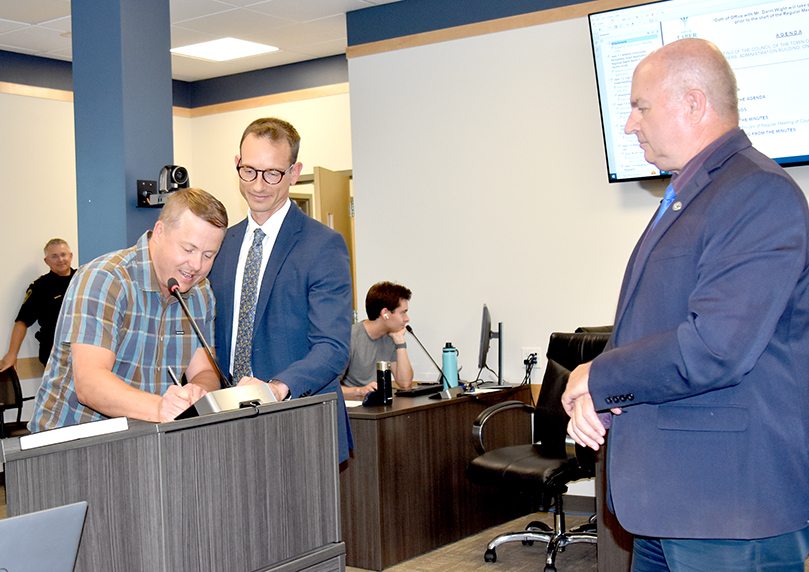 Times Photo By Meg Noguchi OFFICIAL: Dan Remfert sworn in at the council meeting Monday at the Administration Building with Darin Wight from Baldry Sugden LLP and Mayor Andrew Prokop.
By Trevor Busch
Taber Times
editor@tabertimes.com
After a hard-fought midsummer by-election campaign which saw seven candidates compete for a single council position for the Town of Taber, Dan Remfert carried the day for voters on Sept. 7 emerging victorious as the new councillor-elect.
Remfert captured the position with 241 votes, trailed closely by Dale Tilleman with 179. Naomi Wiebe would take in 121, followed by Cat Champagne with 95, Mani Parhar with 86, Mike Krchnak with 79, and Ian Croft with 13.
The local businessman and owner of the Royal Hotel talked about the challenge of taking on the role. 
"I'm very excited. I was planning to run in 2025, I think that's the next one. This bonus of having run before helped in this one, I was more prepared for the forum, I knew more how it would go," Remfert told the Times in a Monday interview. "So I felt confident. But seven people were running for one position. I think I did very well at the forum, I knew I had to be pretty prepared, it wasn't just going to be put your name in and get in with seven-for-one. So I really think I was more prepared than the last time because I knew what it was. I'm excited."
Remfert, who ran unsuccessfully in the previous 2021 municipal election taking in 684 votes, commented on the present vote totals not being as tight in 2023. 
"It didn't go down to the count. Last time we went to the count."
By-election candidate Krchnak also ran in 2021, taking in 316 votes. In that election, three candidates – Wanda Osburne-Campbell, Remfert and Pat Bremner – were within striking distance of incumbent Jack Brewin by less than 70 votes, with Osburne-Campbell trailing by only 26 ballots.
Transitioning from councillor-elect to Town of Taber councillor, Remfert was officially sworn in just prior to town council's regular meeting on Sept. 11 at 3:30 p.m.
Remfert singled out a few key supporters for recognition.
"I'd like to thank obviously my family and my wife. I'd like to thank the mayor for giving me a call Thursday night. I'd like to thank Graham Abela, he kind of got me on to the police commission, and kind of set me on this path. That was big. And just thank the community for support."
Far from discouraged in taking on the position in the middle of current council's present mandate, Remfert views this as a strength.
"I don't think coming in middle of the term is going to be a disadvantage. Because everybody would be fresh at the start, I'm jumping in, I'm kind of the only new one I think there's gonna be a lot of support. There's these councillors that have already been two years into this term. My hope is they'll embrace somebody coming in."
Currently serving as a commissioner with the Taber Municipal Police Commission, Remfert is looking forward to spreading wings and serving in a variety of roles with council. 
"I have now the opportunity to get on a few more. Some other boards, I could broaden my horizons with some other ones, I'm excited about that just as much. The police commission will be an easy fit for me to help with council."
While admitting to a learning curve, Remfert still believes he'll be able to make a positive contribution on town council in very short order. 
"I'm glad for this by-election, I was planning to run again I'll get two years experience before I have to run in the bigger one, the election where you learn a lot (next municipal election). So I hope I'll be able to jump right in – everybody had to get orientated at the start when the new guys are already two years in there, they're moving on stuff and committees and involved in the four years – I'll be able to jump right in which I think will help. I think I'll be able to learn quick."
Remfert takes over the position from former Coun. Alf Rudd, who resigned in June to take on a new role with the Taber Police Service.
In total, 817 people voted in the by-election.