TPS engaging with community through Coffee with a Cop
Posted on June 1, 2023 by Taber Times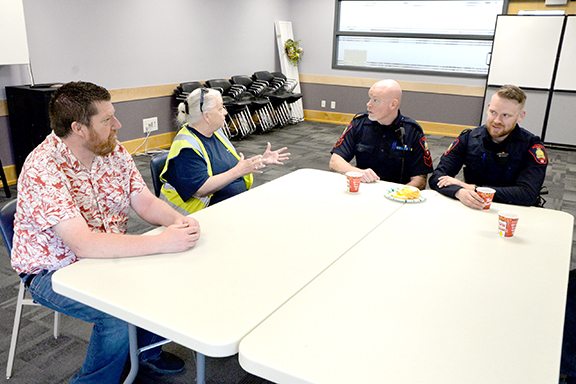 TIMES PHOTO BY TREVOR BUSCH STEAMING JOE: Sgt. Steve Meggison and Cst. Michael Kitto of the Taber Police Service chat with community members at the Taber Public Library on Thursday morning as part of the service's Coffee with a Cop initiative.
By Trevor Busch
Taber Times
Pour yourself a steaming cup of coffee and draw up a chair to discuss the concerns that matter most to you with members of local law enforcement.
That's the concept behind Coffee with a Cop, a joint initiative of the Taber Police Service and the Taber Public Library. Hosted on Thursday morning at the library, members of the public were able to converse with TPS Sgt. Steve Meggison and Cst. Michael Kitto.
"It's something that we've definitely seen other agencies doing," said Meggison. "And it was actually Chris Vowles (library manager) that suggested that we try it. So this is day one. Give it a shot and see what kind of response we get."
Meggison indicated Thursday's event was a dry run to gauge the public's interest.
"We'll probably give it a test run or two. And if it's something that all of a sudden, people are showing up and want to share."
Rather than direct the conversation, Meggison says the TPS is here to listen.
"Really, it's because some people will come with questions that we might not have even thought of. What's wrong with window tint? Well, here's all the reasons why it's illegal. Or it could be something as simple as why do you guys drive cars (not trucks)? It's gonna be entirely up to the people that come in to see us."
Coffee with a Cop is also intended as an introduction for new TPS members the public might be unfamiliar with.
"We've got a lot of new members," said Meggison. "So for some people, they might recognize I've been here for 25 years but Mike they might not, so then they get a chance to actually meet him this way (rather than) while they're on the side of the road, getting a ticket."