Provincial grant delivered for Wastewater Treatment Plant Secondary Clarifier upgrades
Posted on April 26, 2023 by Taber Times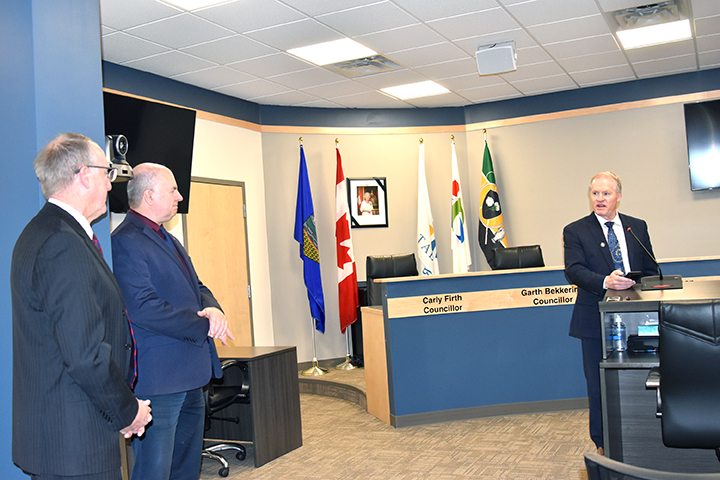 By Trevor Busch
Taber Times
During a press event last week at the Town of Taber Administration Building, Taber-Warner MLA Grant Hunter was on hand to deliver grant funding to the Town for future upgrades at the Wastewater Treatment Plant.
The $1,233,520 grant will assist with upgrades to the Wastewater Treatment Plant Secondary Clarifier. 
As Taber grows, the need for wastewater treatment has grown as well.
"The Town of Taber is thrilled to receive the $1,233,520 grant funding source amount for our Water and Wastewater Secondary Clarifiers Enhancement Project," said Mayor Andrew Prokop. "This is a very important required maintenance infrastructure project for the Town of Taber residents. We would like to thank the Minister of Transportation and Economic Corridors, Devin Dreeshen, and the government for this very generous and much needed funding."
According to the province, the maintenance and upgrades for wastewater infrastructure will help ensure Taber can accommodate growing economic and population needs, and "represents the government's continued commitment to supporting the growing prosperity of Taber, and southern Alberta."
Clarifiers are settling tanks built with mechanical means for continuous removal of solids being deposited by sedimentation. A clarifier is generally used to remove solid particulates or suspended solids from liquid for clarification and/or thickening. Inside the clarifier, solid contaminants will settle down to the bottom of the tank where it is collected by a scraper mechanism.
Secondary clarification is a vital component of most biological wastewater treatment systems. The fundamental objective of secondary clarifiers is to separate biological floc from the treated liquid waste stream.
At their March 13 meeting, Taber town council voted unanimously to approve first reading of Long Term Borrowing Bylaw – Wastewater Secondary Clarifier Rehabilitation Project 4-2023.
Based on a $3 million debenture with the current interest rate of 5.27 per cent from Alberta Treasury and Finance, for a term of 20 years, payments would be $244,483.28 per year.
The loan would be serviced by the approved infrastructure renewal fee of $6/month per residential account and $7.50 per non-residential account (approximately 3000 residential accounts and 400 nonresidential accounts). This generates $252,000 per year.