Like clockwork: BMO branch repairs malfunctioning timepiece
Posted on April 20, 2023 by Taber Times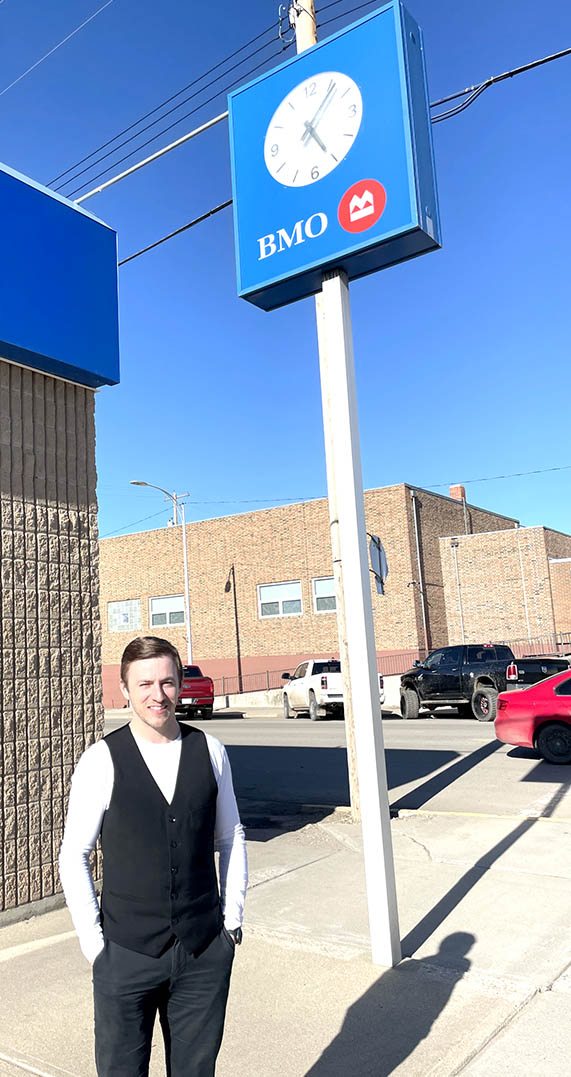 By Heather Cameron
Taber Times
Local Journalism Initiative Reporter
When Michal Fedio, who is the current manager at the Bank of Montreal, moved to Taber in February 2022 the clock that is out in front of the Bank of Montreal was the first thing that caught his attention.
"It took me a while to realize that it was not working," Fedio said. "I've always found these clocks to be so iconic and historical. I made myself a commitment to have it fixed so it can do what it is intended – serve our community."
Because of Fedio's efforts, the clock was repaired at the end of March 2023 and Fedio's goal was realized. 
"I am a strong believer that everything that happens in our lives, happens for a reason. Sometimes we face challenges to become a stronger and better version of ourselves." Fedio said. "I try to put myself in someone else's shoes to understand where they are coming from. I am a realistic person that finds joy in simple things in life. One of them was the idea of fixing our clock. It's a small thing, but it made me happy and has a significant impact on community."
Fedio's story, he says, actually begins in Poland where he was born and raised with a Ukrainian background. In 2009, he moved to Toronto where he completed a Bachelor of Commerce Degree at York University in Toronto.
"I have always been passionate about numbers and working one-on-one with clients and customers. I enjoy meeting with our customers, learning about them and seeing how BMO can help," Fedio said. "My parents ran a small business back in Poland, and it is because of this that I am passionate about finance, numbers and working closely with people."
For the last nine years, Fedio has been focused on finance. In 2022, he was presented with an opportunity to work for Bank of Montreal in Taber, an opportunity he accepted. He left his family, including his West Highland Terrier, Milo, behind, when he moved to Alberta.
"I was very intrigued by the opportunity to build a life in Alberta, so I decided to move here," Fedio said. "I was very excited to move to Alberta and to be close to all these beautiful lakes and mountains. Taber is much smaller than Toronto, but I fell in love with this charismatic town and the kindness of the people that live here so I was quickly won over. I've met so many people since I moved here, and everyone was so supportive. It made it feel like home."
BMO, Fedio says, is deeply focused on the community and committed to boldly growing the good in business and life. The bank also hears a lot of positive feedback about our work and the team at the BMO Taber branch is especially fantastic, going above and beyond for clients and customers to help them make real financial progress.
"My job is to serve people and communities, and this is what motivates me to do more and be there for them whenever possible," Fedio says. "I treat people how I want to be treated and value the diversity that Canada has to offer. Anyone who meets me can tell that I am a people person and not afraid of hard work. I enjoy working with the branch team so that we all get a chance to learn from each other and make progress in our community."