Clemis set to compete in World Transplant Summer Games
Posted on April 12, 2023 by Taber Times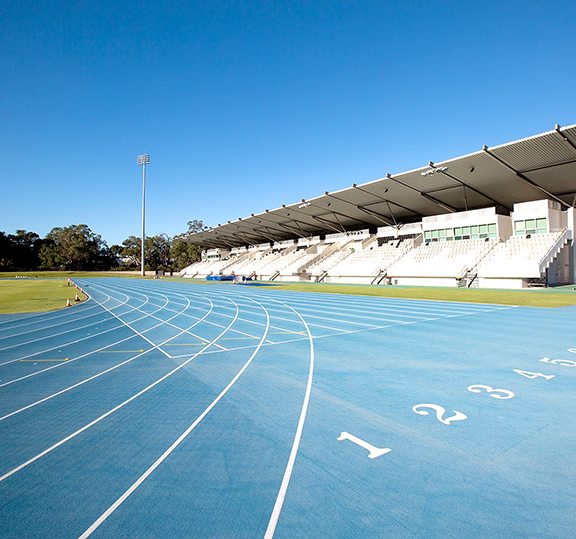 VENUES WEST WA Athletics Stadium June 2nd 2016 Photographer - Travis Hayto PERTH, WESTERN AUSTRALIA Copyright Travis Hayto
By Heather Cameron
Taber Times
Local Journalism Initiative Reporter
Taber resident Jan Clemis and her twin daughters, Bonnie and Carly, will be competing in the 2023 World Transplant Summer Games.
"Organ failure obviously happens worldwide, and organ transplants happen worldwide as well," Clemis said. "It's just an amazing experience for us to come together and celebrate the newfound health that we have as recipients and to thank our donors and thank our donor families, the angel donor families, and our living donors and show them that we're honouring the gift that we've received."
Held in Perth, Australia, the 2023 World Transplant Summer Games will be held from April 15-21. According to the World Transplant Games Federation website, the Games will offer the following events: a 5K Run, Cycling, Pétanque, Volleyball, Badminton, Table Tennis, Tennis, Squash, Swimming, Athletics, Basketball, Ten Pin Bowling, Golf, Darts, Sprint Triathlon (500m Swim, 20km Cycle, 5k Run), Lawn Bowls (Singles) and Six-a-side Football. Participants range from age 4 to age 80+ and Clemis speculates that approximately 46 countries will be participating in this year's event.
The World Transplant Games, Clemis says, have two categories for competitors. One is for recipients of either a solid organ transplant or a stem cell transplant. The other category is for living donors or families of angel donor family members.
"I got a kidney transplant in August 2018 and my son was my living donor," Clemis said. "My son, Blair, was my living donor and he gave me a really, really great kidney. Now I have a birthday and a life day. My birthday's in July and my life day is in August."
Clemis says that because of her son's status as a living donor, she asked the World Transplant Games Federation for special permission for her daughters to participate in the Donor Family Category. The Committee, she says, granted them permission to participate in the Games. 
"We're all gonna go and we're all gonna have some fun and participate and do our best and meet people from all over the world," Clemis said.
To prepare for this year's Games, Clemis says she spent a lot of time training at the Taber Aquafun Centre over the past several months because she will be competing in the 50-meter butterfly, the 50-meter backstroke, the 50-meter freestyle, the 100-meter backstroke, and the 100M individual medley races at the Games. Clemis says that Terry Cook, one of the  lifeguards at the Aquafun Center has been coaching her and helping her with both workouts and encouragements. Morgan Boss, Clemis says, has been using her experience as a former swimmer with the University of Lethbridge to also provide instruction and encouragement. 
"Everybody's just been so kind and generous with their encouragement and they're rooting me on," Clemis said. "It's very encouraging to have everybody have my back."
Clemis says that while she sticks solely to swimming, her daughters will be competing in the 100-metre dash, 3K race walk, Pétanque, and Carly will also do a 5K run. They, Clemis said, are both training fervently and as frequently as she is. They are both excited to go to Perth.
As excited as she is to compete in the 2023 Games, Clemis states it is not her first time competing in the Transplant Games. After hearing about the Transplant Games in 2018 through other kidney transplant recipients, Clemis says she competed in the World Winter Transplant Games in February 2020. 
"Because that was in my backyard, I decided that would be a great time to get into meeting some of these people and going and competing," Clemis said. "They actually discussed whether they should hold the Games or not, but we didn't have any COVID cases at all in Alberta at that time, so they went ahead and hosted the Games in the third week in February."
In the 2020 Winter Games, Clemis competed in the snowshoe and cross-country skiing events. Her kids, she said, came to watch and support her.
"It was so emotional because everybody there was just living on borrowed time and everybody had had a lifesaving transplant and had the ability to come and participate in beautiful nature and meet other people from around the world that shared that similar story," Clemis said. "And we met families of people who had donated organs. They are what we call those angel donor families. And we met people that had donated an organ, like my son, to save somebody else's life. It was just an awesome experience."
Her family's journey with the 2023 Games, Clemis says, will begin when her family arrives in Perth on April 14 and they will then use the 15th to settle in and spend time as a family. They will be part of the 39 athletes coming from Canada. The events, Clemis says, will begin on the 16th.
"We're pretty excited about it and very much looking forward to having that time together as mom and daughters and meeting people," Clemis said. "We'll obviously be in the opening ceremonies with all of our Canadian compatriots and fellow participants. And then they have like a cultural night where we have one evening where we get to go on a riverboat cruise with the team from United Kingdom, as they invited Canada to join them. Then on the last night, the girls have to leave to get home to get back to work, but there's a big barbecue and kind of a wrap up on the evening that I'll be able to go to."
Clemis says that all those from the 46 countries that will be competing in the 2023 Summer Games had to be cleared to compete. The eligibility section on the World Transplant Game Federation website also clearly states in their eligibility section that recipients of transplants who have been stable for at least six months to a year with medical clearance and sufficient training may be cleared for entry into the Games. Entry for the 2022 Games, the site says, opened in April 2022.
"We have very strict protocols," Clemis said. "We have to do our COVID testing every day and we have to test negative in order to participate because we're all immunocompromised and so we are all very susceptible to ill effects and that kind of thing. They've asked us all to get a booster before we go, and we of course had to do physical exams before we go so we could get clearance from our transplant teams. And even my daughters, not being a transplant recipient or donor, they still had to get a physical exam in order to go."
Clemis also hopes that awareness about organ research brought forth by the World Transplant Games and organ research itself will grow should her daughters, who both inherited the kidney disease that ultimately led to her needing a transplant, ever need organ transplants of their own. 
"That possibility is there at this point," Clemis said. "This gives them the hope too that there's a full enriched life after transplant if that happens to be in their future."
As far as her future goes, Clemis admits that she hopes this is not the last time she competes in the World Transplant Games. 
"In the fall of 2022, the World Transplant Games Federation met in Switzerland and, within the next 10 to 15 years, the Transplant games will kind of come under the umbrella of the Paralympic Games," Clemis said. "It's certainly not gonna happen overnight cause it's quite a long process apparently, but I'm hoping that if it happens in the next 15 years that I'll still be able to participate. That's my goal, is to keep healthy enough to participate."
The reason that these games even exist, Clemis says, is to bring awareness to organ donation and to bring awareness about the positivity that can come from organ donation and the wonderful things that can happen afterwards.
"Everybody has such a unique story about their transplant or about their organ donation," Clemis said. "And they know that they can make this huge significant change to someone's life and they're willing and able to do that."
Clemis says that in Alberta those that are interested in becoming organ and/or tissue donors can register at the Alberta Organ and Tissue Donation Registry at https://myhealth.alberta.ca/Pages/OTDRHome.aspx.
In addition to the World Transplant Games, Clemis says that other organ and/or tissue donation events that are in April are Green Shirt Day and National Organ and Tissue Donation Awareness Week.
"We are truly raising awareness for the importance of people to have that conversation with their family to register to become an organ donor because you yourself can't speak in that moment," Clemis said. "If you talk to your family and tell them that that's your wish to become an organ donor, then they can make that decision for you."