91-year-old Barnwell resident helping families countries away
Posted on March 30, 2023 by Taber Times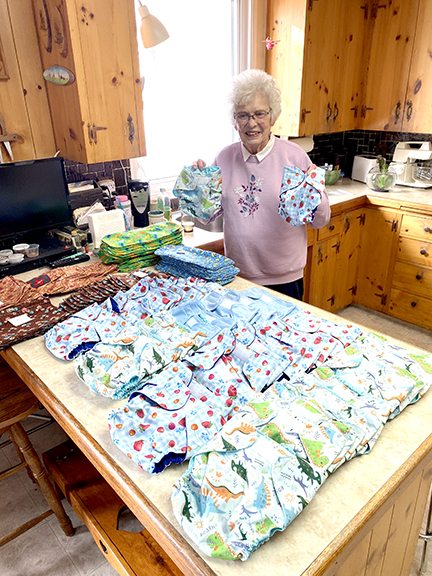 By Ian Croft
Local Journalism Initiative Reporter
As TANGO (Taber Assisting Nations through Global Outreach) is preparing to leave on one of their outreach missions, Carma Anderson, a resident of Barnwell for over 65 years, is doing her part to help out.
Previously sewing over 2500 masks for the COVID-19 pandemic, Anderson is once again picking up a thread a needle, but this time to sew diapers.
"Dr. Ryan Torrie is the one that started it and he said, 'would you like to sew?' I said, 'I'll see if I can do it. I'll be happy to try.' They brought material and it's just been a really good feeling knowing you're sewing for needy people in Third World countries that they go to," said Anderson. "I haven't been sewing since COVID, this is the first time. They're going to Guatemala here in April, and they're going to Fiji in July or August. Then there are other countries requesting their help, and he said there was going to be an African country. They're hoping to do at least three this year and so it's all volunteer things that they do. I said, 'How many do you need?' She said, 'Hundreds.' There's no end to the sewing. I said, 'you just keep (sending) in fabric because I want to keep sewing once you go to Guatemala.' Make sure I have fabric so instead of a week or two before, or a month before I can be sewing all along."
Anderson went on to discuss her love for sewing and how great an opportunity this was to help out in a way that she enjoys.
"I love sewing, I have sown all different things, some for grandkids, and sewn masks — I never thought I enjoyed sewing masks," said Anderson. "I sewed so many masks I couldn't quit. When this came up, I was really, really happy, because I'm not out and about that much and I do a lot of hand work, reading and other things, but I like variety so this really adds variety to my life. It's a happy project. I will sew for as long as I can keep sewing. I'm hoping to hit a good sale for fabric for blankets because that's just something I can do on my own for the babies."
After this Anderson briefly spoke about the 40 to 50 people that will actually be heading out to deliver the items, and help out the people in need.
"It isn't just sewing they have a whole crew. They have doctors, dentists, construction people and people who just volunteer to help as they go. I'm just at home sewing. I'd love to be able to travel with them, but not at my age. Taber is really doing a great job."
Finally Anderson spoke on how sewing diapers was a new experience for her.
"I had to look online and get the tutorial," said Anderson. "Some are really simple, the diapers they have a waterproof fabric that's slippery. It's a little tricky to sew in there, and sometimes the layers get quite thick so you have to be careful with your sewing machine. The liners are really simple and anyone can sew those. There's other liners that go into other things and little bags that they can be carried in. Anyone can sew those. The diapers are a little bit more challenging. It's a good field project because I'm not getting out and doing as much as I'd like to do so this is something that I feel useful at home."