Street parking eliminated along west stretch of 50th Ave.
Posted on February 22, 2023 by Taber Times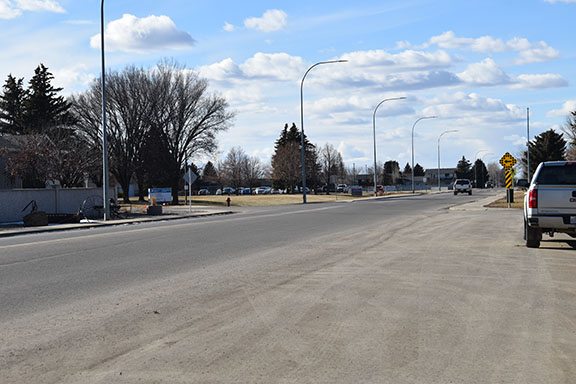 By Trevor Busch
Taber Times
The Town of Taber is restricting vehicle parking along 50th Avenue from 44th Street to Highway 864 following concerns raised regarding pedestrian safety.
At the January 16 Traffic Committee meeting, a review of the parking along 50th Avenue from 44th Street to Highway 864 raised concerns about traffic congestion due to the hospital, bicycle, and pedestrian traffic in the area. According to administration, the Traffic Committee with Taber Police Service's assessment, believe implementing a no parking restriction would promote traffic safety on 50th Avenue. 
"This was brought up to our attention, we're seeing a lot of vehicles parking there," said public works director Gary Scherer during discussion at council's Feb. 13 meeting. "We've always determined that parking shouldn't be around the hospital area for public safety – Taber Police Service discussed this at our traffic safety meeting – for pedestrian safety, bicycle safety, we just feel no parking from 44th Street to Highway 864 would benefit the public and general safety."
Coun. Alf Rudd was concerned about a spillover effect that might impact residential. 
"There's going to be more development in that area, and that will increase traffic volumes in that area. If it goes to other residential, and other businesses, I'm just concerned that they might not have adequate parking in there and then it's going to leak out onto the street anyway. If it can't go there, it's going to go into the residential."
Responding to an inquiry from Mayor Andrew Prokop about where the impetus for this request originated, Scherer commented that the idea arose from the Taber Police Service in conjunction with the Traffic Committee. Prokop went on to suggest that other areas with similar traffic flow were not being targeted for parking restrictions.
"I'm not seeing the comparison rationale, when you've got a wider street out by the hospital area. Down 47th Avenue, 54th to 57th Street area, is a fairly narrow street with fairly heavy traffic. Why is it we're allowing parallel parking there, albeit two hour parking? When I compare those two, it doesn't seem to be the same rationale involved there."
"We're more concerned about pedestrian and bicycle safety," replied Scherer. "That was the main concern."
Coun. Joanne Sorensen was concerned about business parking and space available for employees.
"It is going to be a highly congested area with all of the businesses, and I think there's continued investment in that area. Is there adequate parking for those businesses without street parking along (50 Avenue)?"
Scherer confirmed that providing adequate parking is a development requirement.
Coun. Jack Brewin was in favour of implementing a no parking restriction.
"I drive that 50th Avenue daily, and I've noticed when vehicles start parking there it does tend to congest the street a bit, especially when there's snow on the street, and slush. I don't feel it's safe having people park there. If you go a little further to the east on 50th Avenue it's a little wider and allows for more people to park. Here I think it's dangerous with pedestrians. I would not be in favour of parking there, I'd support the no parking just for the safety of pedestrians."
Prokop expressed concern that there was no prior traffic analysis conducted to support the Traffic Committee's recommendation, and that no area businesses and residents were approached about the potential change. 
Following discussion, council voted 6-1 to approve the no parking area on 50th Avenue from 44th Street to Highway 864 and directed administration to install the necessary signage. Prokop opposed the motion.
The next set of LED flashing pedestrian crossing lights will be installed on 50th Avenue on the west side of 41st Street. The current crosswalk will be moved to the west side of 41st Street.