Mayor Andrew Prokop reflects on 2022 successes for the Town of Taber
Posted on January 18, 2023 by Taber Times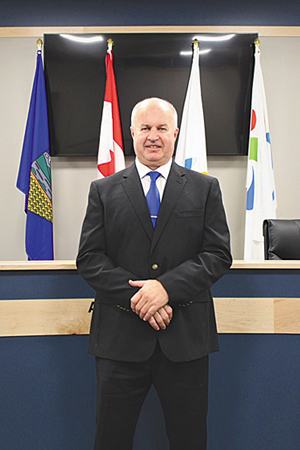 By Ian Croft
Local Journalism Initiative Reporter
news@tabertimes.com
With the COVID-19 pandemic finally starting to settle down last year, Taber was able to achieve great success after withstanding two years of uncertainty. Mayor Andrew Prokop outlined some of the success the town was able to achieve in the previous year, starting with the ongoing Trout Pond project.
"To start with related to our Trout Pond project," said Prokop. "Last year we completed the $100,000 irrigation enhancement project out there related to dealing with all the trees in the campground and area. That has been a big improvement. Also earmarked and set up back in 2022 was the playground that has since been purchased — a $160,000 playground set-up that will be installed sometime in the spring. We're waiting on the arrival of the completed playground package, but that is approved to go in the spring. Also campsite approval at that location as well, besides a wheelchair-accessible beach area and dock install to allow wheelchair access to those two locations — to be able to enjoy the beach and/or fish as well. We also received confirmation of a $300,000 tree grant back in 2022 that's earmarked for this coming spring as well. That will include a lot of different sized trees and shrubbery in the Trout Pond campground and area. That's going to enhance and change the look for the better of the Trout Pond quite a lot in the next several months."
After speaking about the local achievements of the Town, Prokop then expanded to talk about what Taber had accomplished internationally.
"I and our chief financial officer were a delegation in Siaya County, Kenya, and we were over there for the official twinning with ourselves, the Town of Taber and Bondo Town. On the memorandum of understanding for the donation of the garbage truck — we're still in the works with that. Just looking to get back out here shortly and water, wastewater, technology, information and sharing related to water, and wastewater enhancement for their area. Employment opportunities related to work expertise — they can also provide in the area of carpentry, welding, and mechanics — those are the three that they should be able to help us. As well as the work exchange and/or educational component that is attached to that. We also had Minister Adrian Ouma attend, who was the Water Resource Minister from Kenya, last fall he visited, and looked at our garbage truck that I said is going out soon. We had a very good visit with him and showed them around the area. Spent some time at our RMA conference in Calgary with him as well."
Prokop also added about the time that he spent in Calgary as a key speaker.
"Related to all that, I and John Orwa also attended the Calgary Kenya Independence Day celebration. Along with the High Commissioner Immaculate Wambua who was the Kenya Ambassador of Ottawa. He was also present at that evening's dinner where I and the High Commissioner were both keynote speakers for the evening event."
To read the full story, pick up a Taber Times issue or subscribe to an ePaper digital subscription! You can sign up for digital or traditional subscriptions on tabertimes.com by clicking subscribe under ePaper on the home page.