Looking back at the year that was
Posted on January 4, 2023 by Taber Times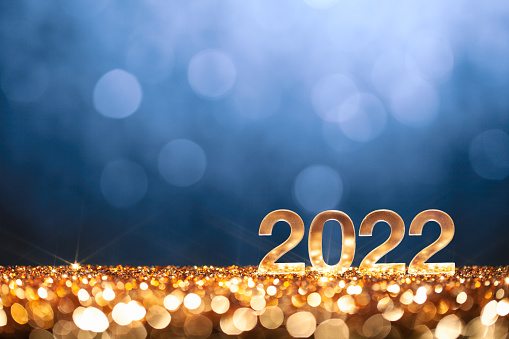 Abstract Christmas / New Year 2022 background. Small numbers on glitter, shiny stars, and wonderful defocused lights in a yellow blue contrast.
It was a year filled with ups and downs and now with 2022 at its close, let's take a look back at the top news stories in Taber throughout the year.
January: It was a tale of dry conditions and drought throughout much of southern Alberta in 2021, and many agricultural producers watched prospects for a successful season wilt along with their crops. Even irrigation farmers felt the burn of the sun's rays a little too harshly in some regions, which impacted crop yields.
The year 2021 has finally come to a close and the new year is well under-way. At the Municipal District of Taber, Reeve Merrill Harris and council have been offered a quick chance to reflect on the past year before kicking full gear into the new year after the Christmas break.
Uncle Hack is coming home to visit his extended family with his blue-collar comedy, this Saturday at The Pin, Taber's bowling alley. Growing up in Taber in his youth, giving some of his comedic stylings on the Taber minor hockey bench to keep the team loose, school hallways, or the MMA ring, Brendan Blacquier (Aka Uncle Hack), found his sense of humour could net him a paycheque in his appeal to some crowds
While no one knows when the pandemic will pass, Cardston-Siksika MLA Joseph Schow is optimistic about how Alberta will bounce back. With politicians heading back to the legislature next month, Schow is excited to get back to work and start moving past the pandemic.
February: Taber-Warner MLA Grant Hunter is under fire from members of the opposition and some within the ranks of his own party after he participated in the border blockade protest at Coutts over the weekend. In a Facebook post on Saturday, Hunter posed with his family in front of a lineup of big rigs and included the statement, "I brought the grandkids down to the Coutts border today to show them the importance of standing up for freedom and liberty."
The economy of Lethbridge and southern Alberta has been greatly impacted by the illegal blockade of the border crossing at Coutts. NDP finance critic and Lethbridge-West MLA Shannon Phillips, joined CEO of Economic Development Lethbridge Trevor Lewington last week to discuss the issue during a virtual press conference."As a province, we are an export-oriented economy, we export billions of dollars by truck to the United States every year the majority of it through the Coutts border crossing," said Phillips.
After taking 2021 off, the Taber Food Bank is hosting the Coldest Night of the Year event for its fourth year come Feb. 26. The event, as described at cnoy.org 'is a terrific family-friendly walk to raise money for local charities serving people experiencing hurt, hunger, and homelessness.' The goal being to fundraise money for a local charity to help support an initiative they've set a goal for.
The town of Taber is about to see a whole bunch of events coming around Green Shirt Day in the next several weeks. April 7 has been declared Green Shirt Day and was created to honour, remember, and recognize all the victims and families of the fatal Humboldt Broncos bus crash and to continue Logan Boulet's legacy by inspiring Canadians to talk to their families and register as organ donors. This year, Taber will see several different events leading up to April 7 in order to raise awareness around organ donation.
March: The Municipal District of Taber council have discussed potentially live-streaming their Committee of the Whole meetings moving forward. After having a previous discussion at their Committee of the Whole meeting in February, the committee made a recommendation to bring the discussion to their Feb. 22 council meeting.
At the Feb. 28 regular meeting of Taber town council, Taber-Warner MLA Grant Hunter stood before council to give an update on the newly released budget for the 2022 fiscal year, to introduce himself to Taber's three new councillors, and to answer any questions that arose.
The recording of resolutions in closed session was discussed by council during the closed session of the Feb. 14 council meeting. It was moved by Coun. Alf Rudd that council direct administration to prepare a statement to appear on the broadcast describing the process of being in closed session and that they have a proper statement read in that transition from closed session to open for community clarification, and the council livestream broadcast continues when council moves into open session following closed session.
With a goal to raise $20,000 for their programs, Matilda Van Huizen and the Taber Food Bank went into their annual Coldest Night of the Year fundraiser with thoughts of repeating the same success they've had in previous years. They didn't expect the massive success it turned out to be.
There is plenty to look forward to in the Alberta irrigation world in the coming years. Richard Phillips, chairman of Irrigating Alberta Inc. and Bow River Irrigation District general manager, was on hand on March 17 in a live-streamed event with Southern Alberta Council on Public Affairs, and he explained what was happening in regard to the Alberta Irrigation Modernization Program.
To read the full story, pick up a Taber Times issue or subscribe to an ePaper digital subscription! You can sign up for digital or traditional subscriptions on tabertimes.com by clicking subscribe under ePaper on the home page.