Horizon receives performance illustrating lasting effects of residential schools
Posted on November 23, 2022 by Taber Times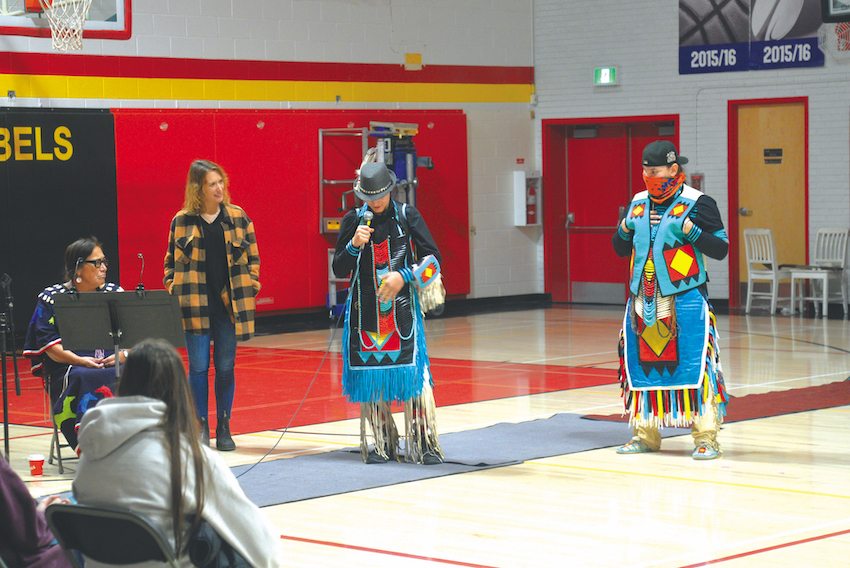 TIMES PHOTO BY IAN CROFT
By Ian Croft
Local Journalism Initiative Reporter
news@tabertimes.com
As part of Horizon School Division's professional development day on Nov. 14, the staff of the school board received a performance from Strathmore High School to end the day. Deanne Bertsch, drama teacher at Strathmore High School who was the individual behind the creation of the New Blood performance, spoke on what the show was about.
"It's a story about reconciliation, it's a story of Vincent Yellow Old Woman and his life going through residential school — his healing and returning to his people to become chief of his people," said Bertsch. "It's told through music, dance, poetry, and Indigenous traditional dances. It's essentially the story of so many Indigenous people across Canada who went through residential school."
After giving this explanation, Bertsch also went into a discussion speaking about what elements made this performance important both to put on and to witness.
"Just to bring awareness to non-Indigenous Canadians about the effects of residential schools, and why so many Indigenous people have experienced trauma because of it and continue to experience trauma through the generations," said Bertsch. "To give people understanding of why when they see an Indigenous person who is struggling, or living on the streets, or homelessness that kind of thing — there's reasons for it and behind it. These little children were taken away from their homes where they felt safe at the age of five and put into the schools where they couldn't speak their language. They had to adopt a completely different lifestyle than what they knew and what they were used to. They just weren't loved, they weren't cared for, and they didn't get love there."
To read the full story, pick up a Taber Times issue or subscribe to an ePaper digital subscription! You can sign up for digital or traditional subscriptions on tabertimes.com by clicking subscribe under ePaper on the home page.