Taber Players prepare to act out a catastrophe on stage
Posted on October 26, 2022 by Taber Times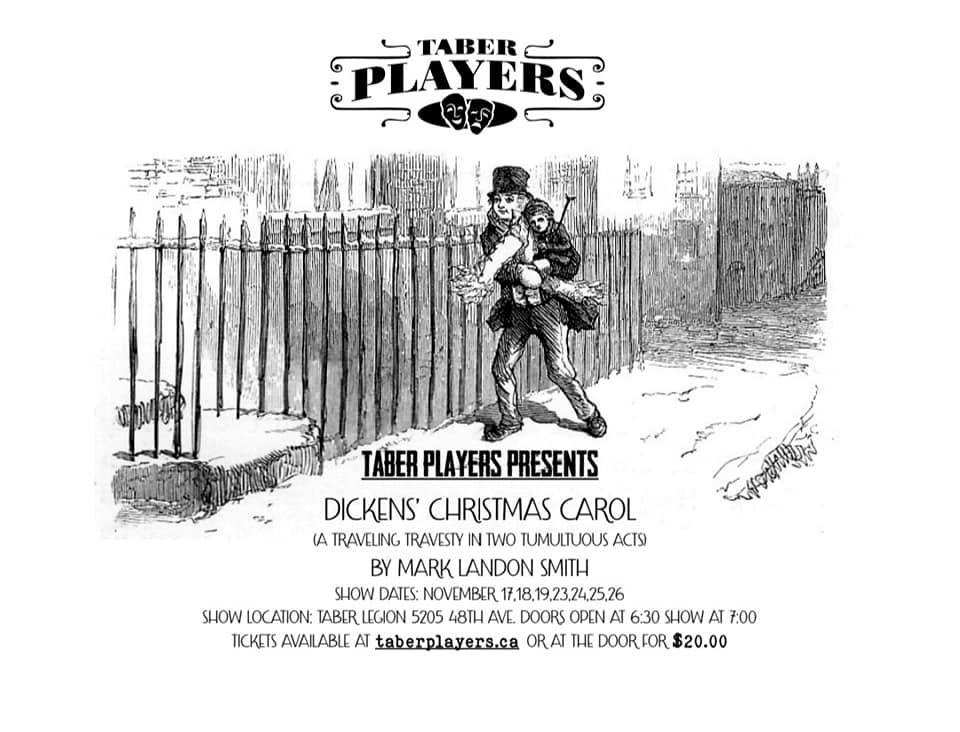 By Ian Croft
Local Journalism Initiative Reporter
news@tabertimes.com
Despite it still only being fall, members of Taber Players are preparing for the festive season as they practice for their upcoming show A Dicken's Christmas Carol by Mark Landon Smith.
With opening night coming in mid-November, Rob Berezay, director for this show, was able to provide a rundown of what people should expect from this play.
"Well, it tells the story of Scrooge's Christmas Carol, but the story is really about the Styckes-Upon-Thump repertoire company who has been putting on the same play and billing it as the final performance of the show that they've done for 15 years," said Berezay. "It's really about this inept theatre company who is putting on this play, and everything that goes wrong while they're putting on the play. There are missed cues, there are missed lines, there are sets that fall down — it's accident-prone throughout. It's in the same vein as where everything that possibly can go wrong, does go wrong during the play. It does tell the story, but in a very accident-prone way, and at the comedy of it because it's farcical. It's this inept theatre company putting on this classic Christmas tale that goes wrong as they do it."
This production has people from all across southern Alberta as actors with members from Taber, including Darrell Croft as Sir. Selsdon Piddock, Sarah Nunn Lee as Dame Rowena Mibbleton-Lewis, Jocelyn Steinborn as Mrs. Bettina Salisbury, and an individual from Coaldale with Jaclynn Elfring as Cynthia Imbry, Rob Berezay from Coutts as Teddy Shud, and two actors from Lethbridge with Kristan Adkins as Mrs. Cordelia Woods, and Jeffery Graham as Mr. Elyot Crummels.
To read the full story, pick up a Taber Times issue or subscribe to an ePaper digital subscription! You can sign up for digital or traditional subscriptions on tabertimes.com by clicking subscribe under ePaper on the home page.