Taber Fire Department reflects on large industrial fire this past May
Posted on October 12, 2022 by Taber Times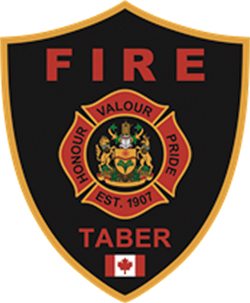 By Cole Parkinson
Taber Times
cparkinson@tabertimes.com
In early May, large black clouds could be seen coming out of Taber's industrial section after a fire started in the 5800 block of 64th Street. The fire was detained after firefighters battled the blazes for numerous hours.
"Some of the key points — that was a well-run fire supported with the owner of the building, the M.D. of Taber, and the Taber Fire Department all working together cohesively to make sure the outcome was the most minimal amount of damage possible," explained Steve Munshaw, Taber fire chief. "Some of the factors of that fire was high winds — we had anywhere from 50 plus winds and yet we needed to run elevated water streams at that. So, there were some tactics and techniques to get in so that we were able to do an elevated stream without having compromisation of that ladder in wind. So, very challenging with water sourcing and the amount of actual water needed at that fire was intense because we had plastic bedding material all piled up and bundled up that was on fire."
Due to the thick black smoke that the fire produced, many businesses in the area sent their employees home as the department continued to do its best to contain the fire in the area.
"Many businesses just shut down that were east of that. Just because they couldn't take it. It was very intense, but everybody did such a good job working together, cohesively over that period of time and to make sure it was the most minimal factor. And then the business was back up and running that week," continued Munshaw.
One piece of equipment that was crucial to battle the fire according to the department was the ladder truck. Thanks to the elevation the truck brings, it allows them to run continuous water overhead for nearly four hours.
"The tower is up there and I got to run the stick for four hours," explained Steve Swarbrick, assistant fire chief.
While the ladder truck purchase was a point of contention when it was first purchased back in late 2017, the department has been happy with what it's provided. Looking at this fire, in particular, they said it could have been much worse had it not been for that piece of equipment.
"It's really such a needed piece of a tool. I'm glad we don't have fires often, but when you do, you need to make sure that you keep that person's business (safe), (otherwise) they're gonna be out of a job. If you don't save that business, (it's not just) one person, that was many, there are 20 people that worked in that building," stated Munshaw. "So, you think that financial impact of that business going down — can't have it. So, support these needs and the fire department does all of this training. There's all this stuff and some other equipment's big and expensive and only in action at certain times, but it's needed. Just all of that product pushing in, just chewing through all that stuff. And then buildings to the east of that with all those kinds of winds. It's just lucky those tools that we had, had that ability to actually extinguish that fire."
To read the full story, pick up a Taber Times issue or subscribe to an ePaper digital subscription! You can sign up for digital or traditional subscriptions on tabertimes.com by clicking subscribe under ePaper on the home page.