TPL ends Orange Shirt Day with Indigenous prayer
Posted on October 5, 2022 by Taber Times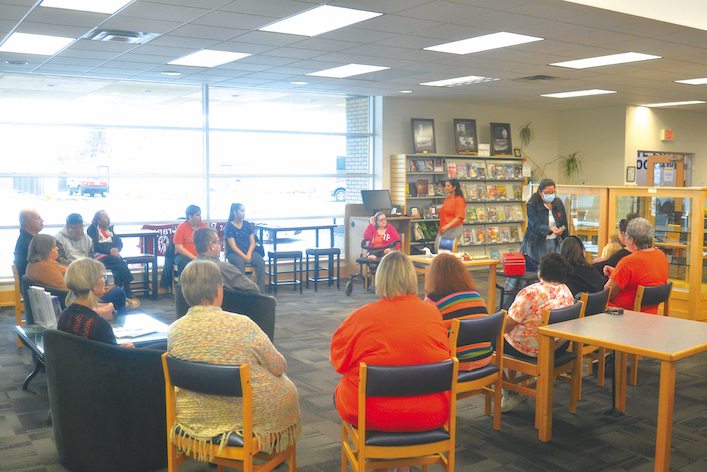 TIMES PHOTO BY IAN CROFT
By Ian Croft
Local Journalism Initiative Reporter
news@tabertimes.com
With the library fully taking part in Orange Shirt Day, they held several events leading up to the day itself where they held a traditional Indigenous prayer called a smudge. Jessica Goodrider-Loewen, the Indigenous Family Liaison Worker with FCSS, led this prayer for everyone who came out for the event.
"This was a smudging of the library that Dawn (Kondas, Program Coordinator at the Taber Public Library) asked if I could do," said Goodrider-Loewen. "Lisa Sowinski has done it in the past, I believe she's been very busy, so I was very honoured to do this for Dawn. Smudging is a way to pray, it's a way to cleanse. So, when we smudge, we pray for our communities, our families, and our friends. I smudge daily unless my energy is not very good and then I wait till I feel better to pray. It is just my way of praying — different tribes have different ways of smudging, so I was raised with using sage and sweet grass. Other tribes use charcoal and sweet grass, or sweet pine, so this is just how I learn to do it it's not the way that everybody else would do it."
of any of the societies, Goodrider-Loewen was given the right to smudge by her mother who was then given the right to smudge by her grandmother Poosaaki, who was a medicine woman and a member of the First Nations spiritual societies.
"Smudging, to my knowledge, is a way of blessing a location. I've had it done in my home — there was a lady named Mrs. Many Bears, she was a medicine woman, she blessed my home that way with the sweet grass to make it safe, and just to cleared of any negative energy," continued Goodrider-Loewen.
Taber Mayor Andrew Prokop, who was present at the event, briefly spoke about his thoughts on the day and activities going on throughout.
To read the full story, pick up a Taber Times issue or subscribe to an ePaper digital subscription! You can sign up for digital or traditional subscriptions on tabertimes.com by clicking subscribe under ePaper on the home page.