L. T. Westlake receives wisdom from Elder Charlie Fox
Posted on October 5, 2022 by Taber Times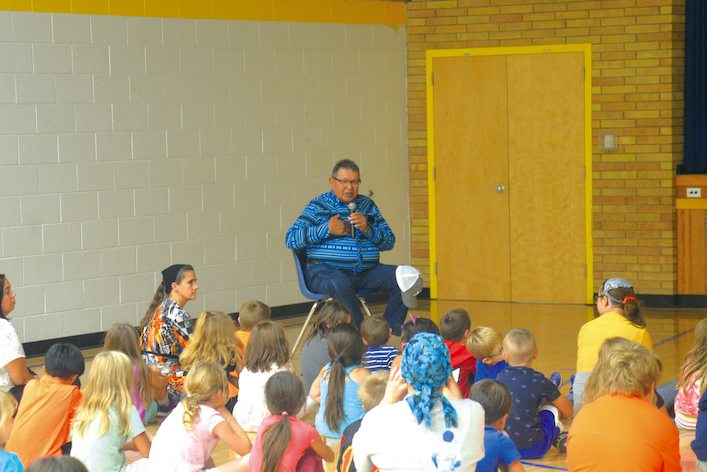 TIMES PHOTO BY IAN CROFT
By Ian Croft
Local Journalism Initiative Reporter
news@tabertimes.com
At the end of September, Canada took part in observing Orange Shirt Day on Sept. 30. As part of this, schools across Canada held assemblies to educate children about residential schools and the lasting effects they have had.
L. T. Westlake Fine Arts Elementary School welcomed Elder Charlie Fox of the Blackfoot Nation to speak about his experiences in taking part in these assemblies.
"I'm especially grateful to be asked to speak to our young people," said Fox. "As an elder, my role in the community which of course stems from the past — all the gifts that I've received, whether it is in the form of a life experience, or being taught in a classroom, or from an elder, are all gifts that were given to me. That goes to making me an elder and being recognized as an elder, especially in the Sacred Horn Society. When I acquired that status, everybody — adults included, — become my children. For me, when I smudge in the morning and pray, I pray to these special intentions for these people that I work with — and I'm not going to be able to name all the people, so I think about Taber, Medicine Hat, Calgary, Red Deer, those places with all the people I worked with — my family, my brothers, my sisters, and my elders, societies. I include them in my prayers and I do that every morning in the form of a smudge in meditation."
Fox continued by discussing how his spirituality shapes his everyday life.
"So, when you do that and you pray every day, it's a habit. So, you try to live that life, it's not that easy when you think about it. When somebody cut you off — when I was a young man, I would have some choice words for that guy, but I don't do that anymore, I just keep going because life teaches you those things and for me, I've been very lucky to have those life experiences. I just give thanks every morning for all the blessings that I get throughout the day."
To read the full story, pick up a Taber Times issue or subscribe to an ePaper digital subscription! You can sign up for digital or traditional subscriptions on tabertimes.com by clicking subscribe under ePaper on the home page.