Information/cultural sharing an important aspect for new twinning agreement
Posted on October 5, 2022 by Taber Times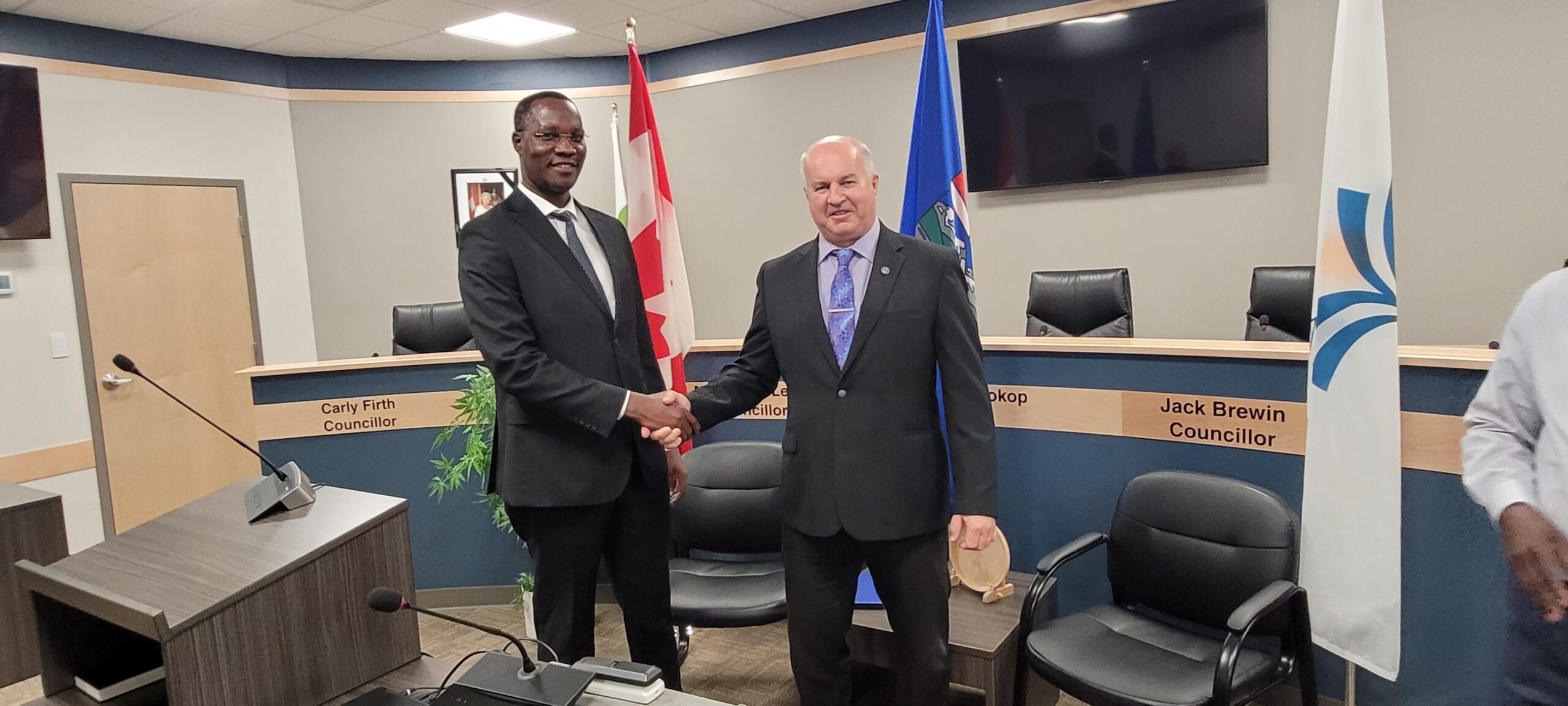 TIMES PHOTO BY KENYON STRONSKI
By Kenyon Stronski
Taber Times
reporter@tabertimes.com
Picking up from last week's Taber Times article on collaboration between Bondo Town and Taber, Adrian Ouma, Minister of Land, Physical Planning, Housing and Urban Development and Finance and Economic Planning speaks on some of the differences between Taber and Siaya County.
"In terms of culture, Siaya is basically English speaking, and in Taber, as I've walked around, everybody understands English, so that's a common denominator. The wastewater systems, and the coverage here is different. All the households are connected to the sewer. Back in Siaya, and mostly Bondo it's only two per cent that's connected to the sewer; the rest is either a septic tank or pits. Across Canada, mostly in Alberta towns I've visited, the biomass that comes from wastewater is burnt away, so we're seeking how to collaborate technically to make sure that we reduce carbides at our waste treatment plants by using gas in our generators — gas fire engines — to make sure that we can support the power needs of our wastewater systems using the energy from the waste. In Kenya, we rely on hydropower — 80 per cent — and here there is a lot of diversification in terms of how you get your power. Natural gas, LED for lighting. In terms of infrastructure we are moderate, it is not so rural yet not so urban, you can access most places."
While visiting, Ouma also expressed his willingness to learn the schedules of Taber's different branches of government — and how they all operate together — like Taber Public Works and the fire department.
"The maintenance schedule is a learning experience. I visited Public Works here and I've seen what Public Works does in terms of their schedule. In terms of other management, I've been to the fire chief's office, and I've seen the fire truck. which I've been told can be ready as part of a collaboration in the next 18 months. We want to try and model Bondo in terms of Taber standards, disaster response, provision of water, and waste management, to try and benefit technically from both. Siaya has that dedicated and skilled workforce, we're just not mechanized but here you're fully mechanized, so the skills will transfer back in terms of exchange and both of us will benefit."
To read the full story, pick up a Taber Times issue or subscribe to an ePaper digital subscription! You can sign up for digital or traditional subscriptions on tabertimes.com by clicking subscribe under ePaper on the home page.