Siaya County and Taber excited about collaboration moving forward
Posted on September 28, 2022 by Taber Times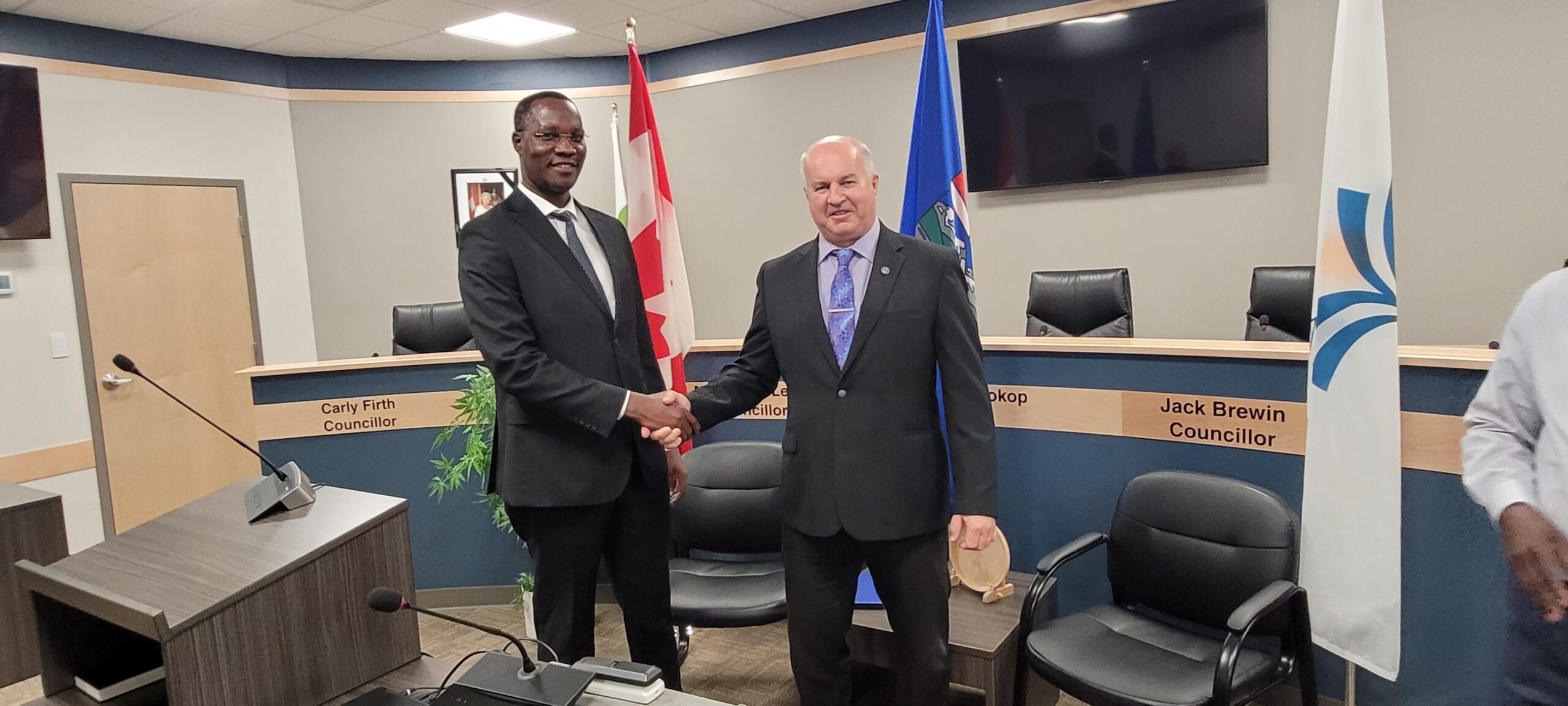 TIMES PHOTO BY KENYON STRONSKI
By Kenyon Stronski
Taber Times
reporter@tabertimes.com
Following Mayor Andrew Prokop's visit to Siaya County and Bondo Town in June, Adrian Ouma, Siaya County Minister of Land, Physical Planning, Housing and Urban Development, and Finance and Economic Planning visited Taber once again in the wake of the twinning agreement back in June.
Both Ouma and Prokop commented on how easy of a decision it was to sign the twinning and have further collaboration between the two towns across the world. A Memorandum of Understanding was signed back in 2018 marking the two would twin, with Prokop saying the process of twinning was just a continuation from that visit in 2018.
Ouma noted after the previous visit of Siaya County to Taber, the wait was long to get Prokop over to Kenya in the wake of COVID-19.
"Following our visit in 2018 and the return visit by the Mayor to Siaya — it took so long for us to have a physical visit by the mayor due to Corona, but when COVID ended, the first thing the mayor did was visit us and that completed the whole cycle. A team from Siaya came to visit Taber and the mayor visited Siaya in an official capacity. We've shared and seen the gaps on areas we can collaborate on. One of the areas is in solid waste and wastewater management systems. On this front, we did realize that the technical skills for wastewater here in Taber is a little bit advanced, when the mayor visited he noticed the gap on water production, clean water, and potable water, which is okay, but the end of wastewater had a little bit of a gap."
That area sparked some of the initial discussion between Siaya County and Taber, and now Ouma said when he gets back to Kenya, he noted they will be writing an official letter to the mayor to potentially assist in building their capacity.
To read the full story, pick up a Taber Times issue or subscribe to an ePaper digital subscription! You can sign up for digital or traditional subscriptions on tabertimes.com by clicking subscribe under ePaper on the home page.